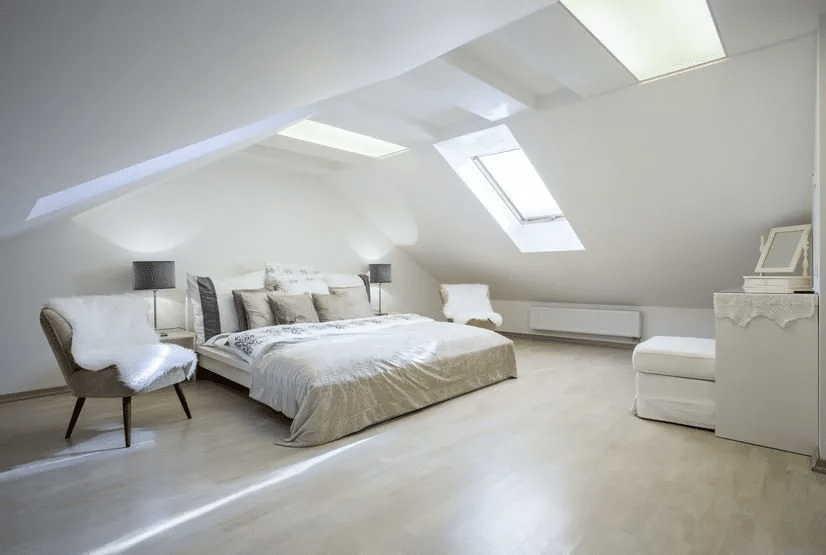 Four Ways To Use Your Loft Conversion
With house prices at the highest they've ever been, once you've invested in a property, it's unlikely that you'll want to move on anytime soon. However, this doesn't mean that you don't want more space for your family to grow into and, because of this, many homeowners are opting to renovate their properties to optimise the space they have.
One way to do this is to convert your loft, however, there are many ways you could use a loft conversion- here are some of our favourite ideas:
Master bedroom
Whether you've got a growing family or you simply want to enjoy a larger, more luxurious bedroom for you and your partner, a loft conversion provides the ideal setting for a spacious master bedroom.
The angled ceilings of a loft conversion create a beautiful frame for a king-size bed, and you can install Velux windows so that you can enjoy expansive views across your area. Why not take a corner of your loft and transform it into an indulgent en-suite?
Playroom or games room
If your kids' toys are cluttering up your living room and kitchen, you may want to consider making your new loft conversion a playroom or games room. This way, your children can while away the hours up there, without disturbing you and leaving trip hazards all over the main house.
Alternatively, if your children aren't quite children anymore and they want a more private space to hang out with their friends, a spacious loft could be the perfect chill-out spot.
Second living space
If you have a large family, you'll know how difficult it can be to escape the hustle and bustle of your house for some well-deserved relaxation- particularly if you only have one living space. Perhaps you only have one lounge or your entire ground floor is open plan; either way, you're probably craving a separate space where you can relax, read your book or watch your favourite TV shows.
When you transform your loft into a second living space, you never have to worry about fighting over the TV remote or trying to drown out the sound of chaotic cooking whilst you read the paper.
Walk-in wardrobe
If you're an avid shopaholic and your wardrobe's practically overflowing, you could use some (or all!) of your loft conversion space to store all of your beautiful clothes, shoes and accessories. You could also create an area for a dressing table and mirror so that whenever you emerge from your attic, you'll always be the belle of the ball.
A walk-in wardrobe is not only a luxurious addition to your home, but it will also free up space in the rest of your house, making things feel a lot less cluttered and messy. When you carry out a loft conversion at your property, one of the most vital services that you'll need to hire is a team of expert scaffolders. Here at Hi-Point Access, we are a reliable scaffolding company offering an extensive range of scaffolding services and can work on both small domestic loft conversions and large-scale commercial renovations. To find out more, call us today on 0114 257 7600.