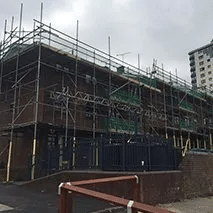 Scaffolding: What Are The Rules?
Starting a renovation project at your home or business is an exciting time, however, to ensure everything is done 'by the book', there are a lot of rules and regulations that you need to make yourself aware of. From planning permission to parking permits, you're going to find yourself reading up about all sorts of regulations so that your project runs smoothly with no unexpected interruptions or hurdles.
When it comes to scaffolding, it can be tricky to know what the exact rules are- we see scaffolding erected all over the place all the time, so surely it's fine to just go ahead? Well, not necessarily; to ensure your scaffolding goes up properly and without delay, we're here to answer your questions about erecting scaffolding at your home or business.
Is scaffolding necessary for my project?
If your project is regarded as low-risk, it may be that scaffolding isn't actually necessary. Once the plans are drawn up, your construction contractors will assess whether you need scaffolding or not- if you're installing large solar panels or getting a loft conversion, then your construction team will likely need easy access to the roof throughout the project. However, if they're just fixing a few roof tiles, a full scaffolding structure may be unnecessary.
Do I need a scaffolding licence?
This is a question that we're asked time and time again by our customers. If scaffolding is erected within the boundary of your property, there's no need for you to have a licence- but it's always a good idea to let your neighbours know if you're putting scaffolding up to avoid any neighbourly tension.
However, if the scaffolding structure is going to spill over onto the pavement or roadside, you'll need to obtain a licence from the local council. Whilst your scaffolder or building contractor will apply for the licence, it's your responsibility to check the paperwork is all in date and above board.
On larger properties in busy areas where scaffolding could pose a risk to the public, scaffolding must be scheduled for quieter times and you may even have to apply to close the road.
Am I responsible for health and safety?
If it's a private residential home that is being renovated, it is the builders and scaffolders who are responsible for maintaining safety standards- but it's good practice to check the work site yourself too. Check it's safe before first use, then every seven days whilst it's up and after any alterations or extreme weather conditions.
If the work being carried out is for business purposes, including property developers, landlords and estate agents, it is your responsibility to manage the site's health and safety standards. This includes the safety of the public and passers-by, as well as those on site.
Who can put up scaffolding?
According to the government's scaffolding rules, "you must use a builder or scaffolding contractor who is trained and competent". You can check with your local council- they may have a list of registered scaffolding companies in the area. All qualified scaffolders should hold a Construction Industry Scheme (CISRS) Card and you and your construction team are responsible for checking this when you hire a scaffolding firm.
Remember to double-check that your chosen scaffolding company has insurance too. Scaffolders face an extra risk as they work at height, so as well as public liability insurance, they should also hold employers' liability insurance to cover any injuries that happen on the job.
For quality scaffolding construction, trust Hi-Point Access. We cater to both residential and commercial clients, so whether you're adding a loft conversion to your home or updating your business premises, you can rely on our expert team to ensure your construction is completed safely and efficiently. Give us a call today on 0114 257 7600 or email us on info@hi-pointaccess.co.uk.