Indoor Scaffolding
Access solutions for the hard to reach interior projects
Indoor scaffolding is often required on a wide range of building or maintenance work for old and new buildings. Whether it's roofing maintenance on a church or lift shaft support in a large office unit, Hi Point has done it all. We can build highly flexible scaffolding solutions that will improve efficiency within you project and help you access even the most difficult spots. We have a wide range of equipment as well as a highly qualified team to deliver a safe and professional scaffolding rig for your needs. Whether you know the exact specifications or you still need help working out a solution for your problem, contact Hi Point today for a no obligation quote.
Why Choose Indoor Scaffolding?
There's a wide range of reasons why you might need indoor scaffolding for your building, maintenance or renovation job, including: –
Indoor roof maintenance on churches or old buildings which require a solid platform for long term or intricate work
Fitting glass roofing or maintaining existing high level windows
Fitting out warehouses or sports halls
Indoor scaffolding has the ability to provide access solutions for lift shaft maintenance work of any kind
If you're unsure whether an indoor scaffolding rig will help support your next job or building project, contact us today and we'll find the best solution to your problem.
Why Choose Hi Point?
With over 30 years industry experience and a dedicated team of scaffolding experts, you can be confident that you'll be in safe hands with Hi Point Access Limited. We've provided indoor scaffolding in Sheffield and beyond for over 30 years.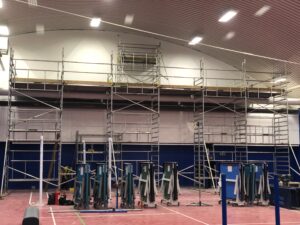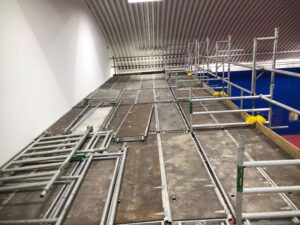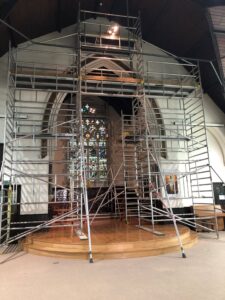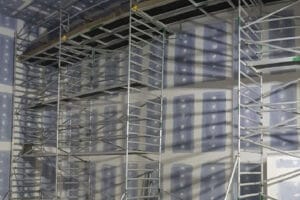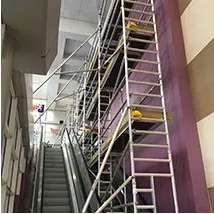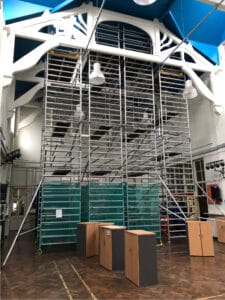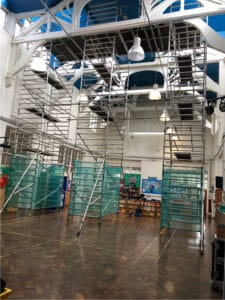 /
Aluminium Scaffolding Services
Our indoor scaffolding uses lightweight aluminium scaffolding tubes which have a wide range of benefits, including a quicker assembly time.
Lightweight high strength aluminium alloy construction
Variety of tower widths
End frames available with 2, 3, 4, 5 rungs
Toe boards, mid-rails and guardrails at working levels and intermediate platforms
Range of platform lengths
Internal ladder access to working levels via trapdoor platforms
Snap action hook on braces
Wheels or base plates