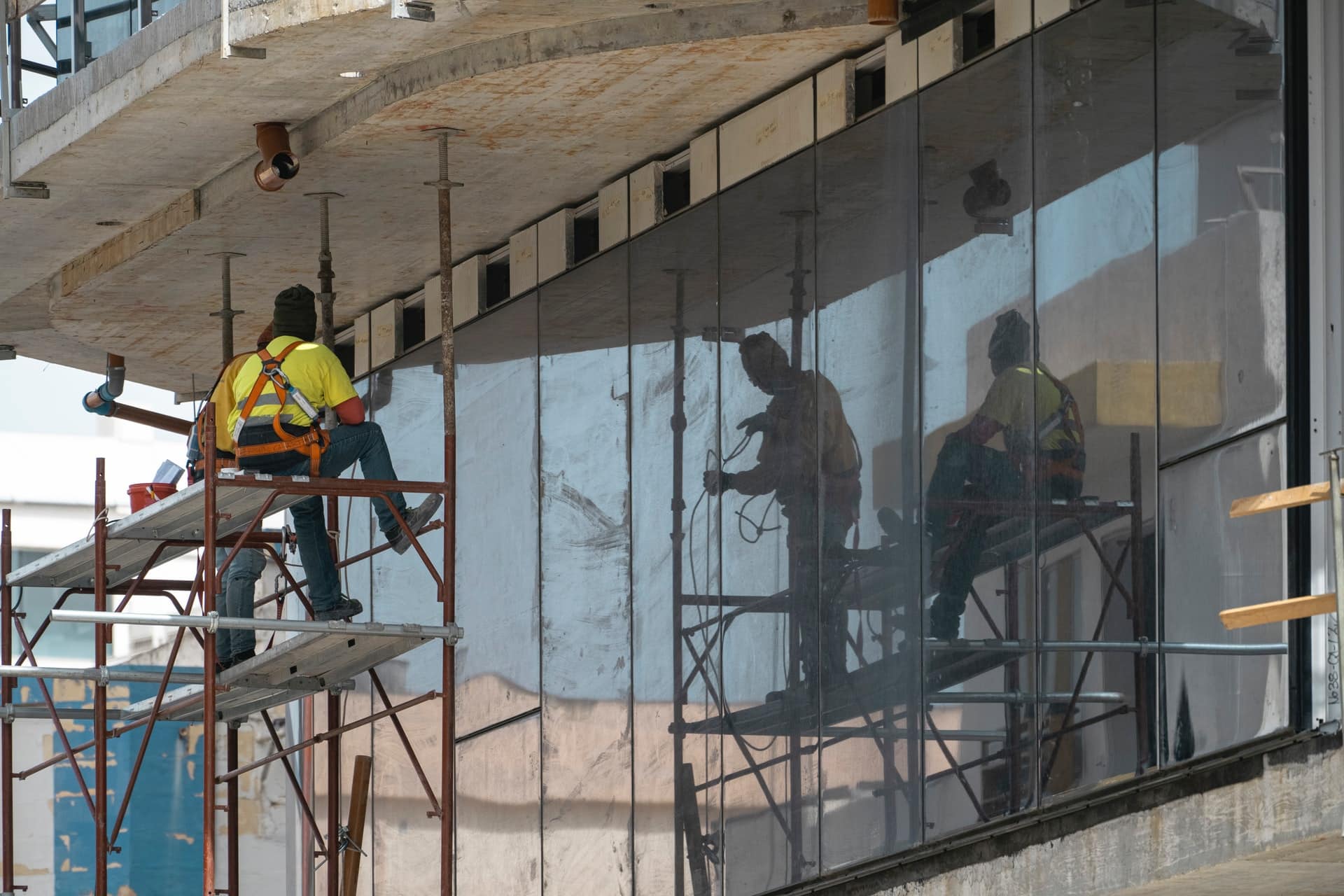 How Do You Stay Safe When Using Access Platforms?
Access platforms are a convenient way to reach high areas of buildings efficiently, are easy to manoeuvre around the work space, and are easy to adjust the height. However, there are some things to consider and prepare before work commences which we have detailed in this blog.
So how do you stay safe when using access platforms? Access platforms are safe to use for working at height when used correctly, with proper training and precautions in place. All equipment should be checked, the work area should be assessed for hazards, and workers should be trained in using the equipment and for working at height.
Read on to discover safety precautions you can put in place before using access platforms.
Is it Safe to Work on Access Platforms?
MEWPS (Mobile elevated work platforms), sometimes referred to as cherry pickers, offer an incredibly adaptable and flexible access solution for a wide range of purposes, helping you reach up to 27 metres in a convenient manner. To ensure optimum safety for workers, there are some important things to consider before starting work:
Check All Equipment Before Use
Although you are most likely hiring your access platform from a professional company, you should thoroughly check all equipment for damage and report it immediately to the hiring company to receive a replacement. Attempting to complete the work with damaged equipment could result in a major accident, as the structure would not be safe.
Plan Ahead
According to the Work at Height regulations, before using an access platform, you must have a rescue plan in place, so that in the event of an incident, the team knows exactly what to do. For example, there should always be at least two workers present, one using the platform and one to lower or manoeuvre the access platform. However there are multiple types of access platform so your plan should reflect the requirements for the type you will use. Also check the point loading before using the access platform to determine whether the ground will take the weight of the equipment.
Hazards
Working at height means your access platform could be near electrical masts and power cables. The access platform should be set up an adequate distance away to reduce the risk of potential fatal electrocution and exposure to non-ionising radiofrequency radiation for mobile or radio masts.
Weather
Working on access platforms means you're more likely to be affected by extreme weather conditions. Wind can affect your balance, and rain or snow can create a slippery surface, both increasing the danger of falling from the access platform. Avoid working in these conditions where possible, especially if snow will cover your work space. However if you are working to a tight deadline, consider wearing a harness to minimise falls. Wearing extra layers under your protective clothing and adding gloves, hats and heavy duty boots can give you extra protection against the elements.
For more information about the weather can affect your ability to work at height, read our recent blog.
Record Equipment Inspections
Access platform inspections should be recorded so they can be checked against any incidents that occur while using it. During longer projects, check the access platforms regularly to ensure they still function as required and have not developed any faults. Risk assessments must be carried out by a competent individual who can continuously review the situation and create a plan for any accidents that may occur.
Training
All members of the team should be trained on using access platforms and working at height to ensure they know how to keep themselves and others safe. As there are different varieties of access platform, there should be a briefing before work commences on the specific kind that will be used for your project. Hi-Point Access is an established provider of training in working at height, offering courses for using Mobile Access Towers.
Health and safety should always be the number one priority when working with access equipment, especially at height. For more information on the safety precautions you can put in place, read our recent blog about scaffolding PPE.
What Are Access Platforms Used For?
You would use an access platform over a secured scaffolding when you need quick access to the higher areas of a building or will need to adjust the height or location of the access platform often. They allow for quick project completion by improving your efficiency and remove don't take a long time to adjust, reducing costs on the time equipment is hired for.
To find out more about the uses and benefits of access platforms or MEWPS, read our recent blog.
What Qualifications Do You Need to Use Access Platforms?
PASMA (Prefabricated Access Suppliers' & Manufacturers' Association) provides a recognised standard for the safe use of Aluminium Towers and access platforms. Anyone who completes this course should be able to safely erect, dismantle, move or adjust access platforms and also perform work on them in a safe manner. The work at height regulations state that you must be able to prove that you have completed the training when necessary. Hi Point Scaffolding is a registered and approved training centre for PASMA course, get a quote on our website today.
Read our recent blog to learn more about the different types of training available for scaffolders.
Hire Access Platforms at Hi Point Scaffolding
With over 30 years industry experience and a dedicated team of access experts, you can be confident that you'll be in safe hands when you hire access platforms from Hi Point Access. Hi Point have provided MEWP or cherry picker hire in Sheffield for a wide range of needs, so you can be sure that we can meet your requirements.
We have two kinds of Mobile Elevated Work Platform suitable for different purposes, contact our team for a quote today.