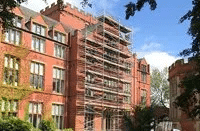 What Can You Expect From Your Scaffold Hire Provider?
When you're hiring a team to design and erect something as important as scaffolding, it's not uncommon to be apprehensive. Scaffolding is built to enable workers to operate at height and with this in mind, a poorly designed or badly assembled structure could be fatal.
Choosing a reputable and trustworthy scaffolding company is a big decision as the wrong choice could have a detrimental effect on your employees as well as your project. If you're feeling a little daunted about making this decision, don't panic. As with anything, it's important to have as much information as possible about all aspects of the process so that you know what to expect. Further to this, a certain degree of knowledge will help you identify any red flags that may crop up which could well sway your decision.
From the moment you make contact with a scaffolding expert right up until the last scaffolding pole is packed away at the end of the project, the process of hiring a scaffolding company can have a lot of twists and turns. However, doing your research and heeding the advice of professionals is bound to make your operation run more smoothly. So, to ease you into the process of hiring a scaffolding contractor, we've discussed some of the processes a scaffold hire company will go through when starting a new project to help you know what to expect.
Hiring a scaffolding contractor: the initial stages
Once you've made contact with a scaffolding specialist, they will need to assess whether or not they're equipped to accommodate your project. Initially, they will likely ask you some questions regarding your needs before coming to your job site for a visual inspection. This is an extremely important part of the process as a face-to-face meeting will help a contractor better understand your needs and visiting your site will enable them to ascertain whether or not they can help.
A scaffolding expert will liaise with you to establish any challenges you could come up against during your project so that they can customise your framework accordingly. This is crucial to ensure that not only does your scaffolding meet the requirements of the task at hand, but also, that it's adapted to keep your employees safe when working at height.
If they are able to take on your project, a scaffolding expert will then provide a quote for how much their services will cost. The pricing of scaffolding services will vary from company to company, but what factors can determine how much scaffolding experts charge?
The ins and outs of scaffold hire prices
It goes without saying that we all want to pay the lowest price possible for scaffolding services. However, when the safety of your employees is at stake, quality is not something to be compromised on. With this in mind, you may want to consider paying the price for a top-quality structure to give you peace of mind that you and your staff are safe throughout the duration of the job.
The price of your scaffolding will largely depend on how tall it needs to be, but there are also other factors that can affect the price such as:
Length of hire
Jobs that require the use of scaffolding can last anywhere from one week to six months and the longer you have the structure, the more the rental will cost. Your chosen firm should be able to provide you with a fixed sum based on the length of your project, however, if it lasts for longer than expected, the price will more than likely increase.
Location
The cost of scaffolding has a lot to do with where you are based. For example, scaffolding in London is likely to be a lot more expensive than in more remote locations, so take this into consideration when you receive your quote.
Amount of walking space needed
As a general rule, the more material that is needed to construct your scaffolding, the more costly it will be. So, a scaffold tower with multiple walking levels is bound to be more expensive than a structure with just one.
Access restrictions
If your scaffolding blocks a public right of way, you will likely need to obtain a special license from the council for it to be erected which will be an added expense on top of your initial quote.
A more complicated structure
If your scaffolding needs to be specifically designed to bridge gaps over conservatories or garages, this may make it more costly. In other words, the riskier the work is, the more expensive the service will be.
Quality of materials used
As well as quantity, the quality of materials used will also affect the cost of the service. All scaffold towers are designed to be robust and sturdy, however, it may be an idea to pay more for a higher quality product to give you peace of mind that your employees are 100% safe.
At Hi-Point Access, we strive to be transparent about the cost of our scaffolding at the first point of contact so that you can appropriately budget for our services. We also include the delivery and removal charges in the initial quote so you can rest assured there will be no unforeseen scaffolding hire costs.
Building and dismantling
So you've communicated your requirements to your scaffolding contractor and you're happy with the price you've been quoted, so what's next? Your hired team will get to work on designing the structure and upon the completion of the relevant paperwork, your framework can then be erected.
Scaffolding specialists will have the experience and expertise needed to build your structure quickly and efficiently so your project can commence promptly. Further to this, if you do face any unexpected challenges during the job, your scaffolding firm will be on hand to answer any questions or provide the relevant assistance to ensure minimum disruption to your operation.
Upon completion of your job, scaffolders will be able to speedily dismantle the structure for your convenience, giving you the chance to marvel at your handiwork. Scaffolders understand that 'time is money' in the construction business and with this in mind, they will often tailor their services to suit your needs and strive to work around your schedule, ensuring your project goes without a hitch.
Hi-Point Access: a scaffolding company in Sheffield that offers a refined and comprehensive service so you can tackle your construction project with ease
At Hi-Point Access, we understand that construction work is often based around tight deadlines and can be stressful by nature. That's why we strive to offer a convenient and reliable service to make your job that little bit easier.
We've had the opportunity to work on a multitude of different projects and as a result, we can provide scaffolding to suit any and every customer. From traditional structures to scaffolding for indoor use, we can construct the framework for your project.
As well as scaffold structures, we also rent out mobile elevating work platforms (MEWPs) that can be useful for a wide variety of tasks, and further to this, we also offer some building and maintenance services. Our all-encompassing service means that whatever your building requirements, Hi-Point Access will surely be able to assist. To discuss your upcoming construction job with a scaffold company near you, contact us today and give your project the boost that it needs with Hi-Point Access.