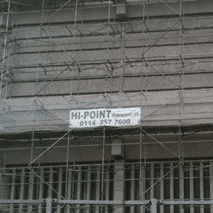 A Full-Service Scaffolding Hire Company Ready to Work With You
When it comes to construction work, scaffolding is a necessity to ensure your workforce are safe when operating at height. From gutter cleaning to roof repairs, there are a multitude of jobs that can put workers at risk if the proper safety precautions haven't been taken. Scaffolding frames are constructed using strong and sturdy materials and further to this, they are specifically designed for particular projects to ensure they are suitable for the task at hand and as safe as possible.
When selecting a company to design and erect your scaffolding, it's advisable to carefully assess the services that are on offer. After all, it's always preferable to opt for a comprehensive service as opposed to something more basic. Additionally, a workforce that operates at height on a regular basis cannot compromise on safety and with this in mind, hiring a scaffolding business with the appropriate accreditation and the highest standards is of the utmost importance.
Whether you're hiring out scaffolding for the first time or you're looking to switch from your current contractor in favour of a better service, it helps to know exactly what a team of scaffolders can offer. This will help you differentiate a great service from an average one and will ultimately ensure you end up with the best scaffolding firm around.
So what defines a faultless scaffolding service? Is it their reliability and attention to detail? Or maybe it simply comes down to the quality of the framework they build. To help you find the best scaffolder for your building project, we've outlined the many services that a reputable scaffolding company will offer along with how they can make your project run smoothly.
Scaffolding rental: what you need to know
First a foremost, a scaffolding expert will need to visit your job site for an in-depth understanding of your project and specific requirements. As well as ensuring that they design the appropriate scaffolding for the task at hand, this will also help them identify any access restrictions to your site. Something like this could be an obstacle when it comes to erecting a scaffolding tower, so it's important to identify restrictions early so that alternative plans can be made.
During this meeting, a scaffolding expert will likely conduct a thorough inspection of your job site as well as speak with you at length about your upcoming project. This is an essential part of the process as it will give your scaffolder the information they need to construct and customise a tower to meet your needs.
When it comes to types of scaffolding, a reputable company will have the solution for any and every building project. From traditional scaffolding that many of us come across on a daily basis to lightweight scaffolding towers designed for less demanding jobs, a scaffolding company worth its salt will be able to assist with any and every aspect of a construction job, ensuring you don't have to hire multiple contractors for one project.
Once your scaffolding tower has been designed and the appropriate risk assessments have been carried out, the structure can then be erected. This is something that scaffolding professionals will do themselves to ensure the equipment is put up safely and further to this, they will erect it in a timely fashion so as not to delay your building project.
Another aspect of the full scaffolding service is the support provided. As the manager of a construction business, the pressure can be overwhelming and being responsible for the safety and well-being of an entire team is a duty that is likely to weigh heavily on your shoulders. However, scaffolders are responsible for creating a framework that enables a workforce to do their job safely and are therefore on hand to relieve some of this pressure and reduce the burden.
Once you have finished with your scaffolding structure, your chosen firm will arrive promptly to dismantle and remove the framework so that you don't have to. When you hire a full scaffolding service, you can guarantee that every step of the process will be taken care of by your scaffolding experts, allowing you to focus your full attention on your own duties.
Additional services
Whilst erecting and dismantling scaffolding is the primary service offered by scaffolding specialists, a reputable company will likely have additional skills and services that could be beneficial to your building project.
For example, they may hire out mobile elevating work platforms (MEWPs) such as a scissor lift for smaller projects or on a single-use basis. Even the tightest corners and most hard to reach areas can be accessed using MEWPs and they are far simpler to set up than scaffolding towers, making them ideal for small, one-man operations.
In addition to this, they may even offer training courses for working at height to ensure that your employees are taking the correct safety precautions when using a MEWP or scaffolding. Far from simply building your scaffold tower and leaving you to it, a company that provides training accepts responsibility for your safety and aims to give your team the knowledge and confidence to work at height.
At Hi-Point Access, our training courses are designed to give workers a comprehensive understanding of the risks that come with working at height and how to combat these. The sessions are both informative and empowering so that not only do your staff members have the knowledge and awareness they need, but they also have the confidence to put what they've learnt into action.
Ultimately, a full-service scaffolding hire company is an organisation that takes all aspects of your project into account to deliver an unrivalled hiring experience. From building and dismantling your scaffolding structure to expertly managing safety and logistics, a scaffolding professional will be on hand to support you through every step of your building project to ensure a smooth and seamless operation.
Hi-Point Access: sturdy scaffolding near you to help you meet your deadlines on time
At Hi-Point Access, we pride ourselves on being a full-service scaffolding hire company and we can take on any project that is thrown our way.
Having been in the business since 1992, we have honed our skills and perfected our service over the years to ensure no customer is left dissatisfied. Whatever your requirements, we can design and build the scaffolding to accommodate your project, or if you're in need of a more flexible structure, we've surely got the MEWP to assist you.
We have a registered and approved training centre and we run a variety of different courses for those working at height. In addition to this, we offer building installation and maintenance services for domestic properties so that whatever the weather, you can rest assured your home is properly protected.
As a company that works closely with construction businesses, we know how stressful this industry can be. That's why we strive to make our services as convenient as possible. Further to this, by building a quality structure in a timely fashion, we aim to make your operation run as smoothly and efficiently as possible. To discuss the cost of scaffolding with one of our experts, contact us today. After an initial conversation, we'll come out to your job site to investigate your requirements further and provide you with a quote for our services.