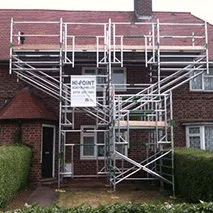 The Dos and Don'ts of Working at Height
It's no lie that working at height requires a lot of precautions and training. It's always advised to avoid working at height if possible and practical to do so. However, as an essential part for many working within industries such as construction, working at height can be an unavoidable part of the job.
As a company that erects scaffolding, works at height on a daily basis and offers safety training for industry professionals, we know how important it is to stay safe. Here are a few things to remember:
The Dos
● It's advised to do as much work as you can whilst on the ground – this includes organising your equipment beforehand, prepping materials and filling out paperwork.
● Ensure all equipment used to work at height is stable and suitable – scaffolding and ladders, for example, should be maintained and checked on a regular basis. If something is broken or looks a little suspect, make sure you get it repaired or replaced immediately and don't send anyone up. Remember, if in doubt, chicken out.
● Employers and employees should always provide protection from falling objects and consider putting an emergency evacuation and rescue procedure in place. Additionally, precautions should be put in place when working on or near fragile surfaces.
The Don'ts
● Under no circumstances should you overload ladders or other equipment that supports you whilst working at height – always check the weight of your equipment or materials that you need to carry before starting. Often, there are labels on the side of ladders that can advise on weight limits. It's advised you should only carry out work on ladders if it's quick and light at a maximum of 30 minutes at a time.
● As well as overloading, avoid overreaching on ladders and resting ladders against potentially weak surfaces such as plastic gutters or uPVC window frames.
● And finally, never allow untrained workers to carry out any work at height.
At Hi Point Access, we provide professional safety courses for those working within the construction industry and are an established provider of training in working at height. Additionally, we also offer PASMA (Prefabricated Access Suppliers' & Manufacturers' Association) and Ladder Association courses. Contact us to secure your spot today.