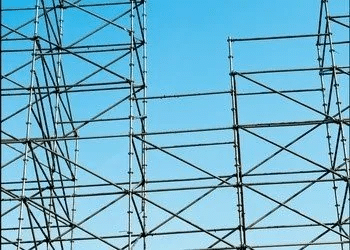 Talk to the Experts About Scaffolding Hire
A building project is usually not without its complications and with so many things to think about, it can be difficult to ensure everything stays on track for the deadline. Whether you're building a new property or refurbishing an old one, anything that can be done to make the process run more smoothly is advisable.
More often than not, scaffolding is a crucial part of a construction job as it's used to build a safe and secure platform for people to access hard to reach areas on a building. When it comes to working at height, safety is of the utmost importance and with this in mind, there really is no substitute for working with an experienced and professional scaffolding company. Whilst it might be possible to purchase scaffolding second hand, this is unlikely to be the most cost-effective option and without the invaluable advice provided by experts in scaffolding, both your project and the safety of your staff could be compromised.
Aside from supplying the structures themselves, there are many other services that scaffolding professionals offer, and taking full advantage of these will only boost the success of your project further. Still not convinced? Read on to find out why you should put your project into the hands of a dependable scaffolding firm.
The safety factor
As previously mentioned, the most important aspect of hiring scaffolding platforms from experts is the guarantee of safety. Working at height comes with risks, so it's crucial to try and minimise these risks wherever possible. When you work with a reputable scaffolding company, you can guarantee that they will source their products from equally reputable manufacturers and as a result, their structures will be of the highest quality. Further to this, scaffolders will visit your job site prior to designing the construct to get a comprehensive understanding of your project, allowing them to assemble the perfect scaffold tower for your requirements.
Upon visiting your site, they will also try to get an understanding of any obstacles and challenges that could be faced so that these can be overcome early and they will likely carry out a risk assessment, ensuring your project runs as smoothly as possible.
A professional scaffolding firm will erect the scaffolding themselves to guarantee that everything is put together properly and they will also dismantle it when your project comes to an end. Scaffolding specialists will have undergone extensive training and will be well-versed on how to assemble and dismantle scaffolding safely and efficiently, ensuring you and your team aren't put in harm's way.
From the moment they take on your project to the minute it ends, an experienced scaffolding firm will take both yours and your colleagues' safety into account and with their assistance, you can rest assured that your construction job will be in the best hands possible.
Scaffolding prices
Another thing that may be weighing heavily on your mind is cost. Building projects can be expensive and it's not uncommon to try and cut costs where possible. As mentioned previously, it's possible to purchase scaffolding second hand, however, you would not be receiving all of the additional benefits of working with a professional scaffolding business.
The price of scaffolding hire depends on many different things including length of hire, location and height, so it's difficult to ascertain exactly how much hiring scaffolding will set you back. However, when you work with a professional company, you will be paying for a lot more than just the structure and with this in mind, budgeting for a professional service will undoubtedly be good value for money.
Training
In addition to supplying safe scaffolding structures, some companies offer training programmes that are designed to give construction workers the knowledge and confidence needed to work at height. As stated previously, a job in the construction industry is not without its risks and as well as working with safe equipment, it's important for each individual to take personal responsibility for their safety and well-being.
Far from simply being bombarded with information to pass a test, construction workers are made aware of the risks they face on a day-to-day basis and given the skills and the confidence to combat them. The Health and Safety Work Act 1974 is a list of duties and regulations that both employees and employers must adhere to in order to maintain health and safety in the workplace, and these training programmes assist businesses in complying.
If you purchase your scaffolding poles from an individual or a company that has limited services, you can't guarantee that safety training will be an option, so it's advisable to work with the experts to ensure your project gets off to the best start. At Hi-Point Access, we offer professional safety training to ensure all individuals are adhering to the guidelines set out in The Health and Safety Work Act 1974. We run a range of courses to accommodate everyone and our instructors have the knowledge and experience to ensure your employees are equipped to work confidently at height.
Insurance
Albeit rare, unfortunately, accidents can happen and in the event that there is an issue with your scaffolding, you want to be sure that you and your staff members are covered. As well as insuring themselves, reputable scaffolders will also have public liability insurance, a necessity for businesses that carry out work on client sites. When liaising with scaffolding businesses, ask for proof of public liability insurance to check that they are legitimate, however, any scaffolding business worth its salt will have this covered.
Scaffolding alternatives
When it comes to building work, a multi-level scaffolding structure is not always a necessity. Accessing hard to reach areas is essential in construction work, however, if your job is on a smaller scale, a full scaffolding tower is unlikely to be good value for money.
Luckily, when you hire a scaffolding company with a comprehensive range of services, you will likely have access to various mobile elevating work platforms (MEWPs). If you need to work on a single isolated area, a MEWP allows you to do so with ease and rather than having a large scaffolding structure erected, you can simply hire a MEWP to get the job done quickly and efficiently.
Although scaffolding is indeed the main event, there are many other services that scaffolding professionals can offer. From safety training to MEWP hire, you can guarantee that when you rely on the assistance of experts in the field, you'll get the whole package which will undoubtedly be beneficial for your building project.
Hi-Point Access: a business that offers quality scaffold tower hire in South Yorkshire and Derbyshire
At Hi-Point Access, we understand that working to tight deadlines is a crucial part of construction work. That's why we offer a comprehensive service that truly ticks all the boxes. Whether you need a scaffold tower built to the highest standard or safety training to empower your workforce, we've got the expertise and the know-how to ensure your construction project goes without a hitch.
When it comes to construction work, working with a team of scaffolding experts is essential to streamlining your project and more importantly, it will give you peace of mind that your employees are safe at all times.
In need of a reliable scaffolding company near you for your upcoming project? Contact us today and get your construction job off to a flying start with Hi-Point Access.