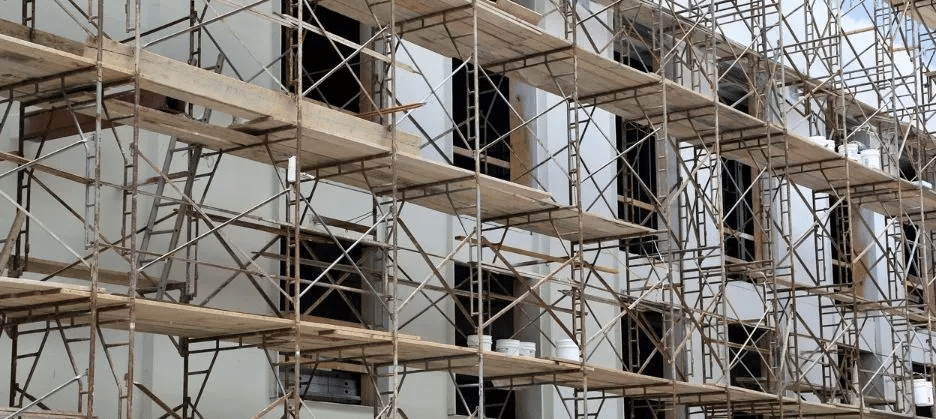 Do You Need a New Scaffolding Company?
For those in the construction industry, having a reliable scaffolding contractor is of the utmost importance. Scaffolding allows builders to operate at height safely and efficiently and with this in mind, many building renovations would not be possible without a sturdy scaffold tower. From grandstand seating to loft conversions, scaffold towers provide us with the platform we need to access hard to reach areas and work with precision.
Whether you're experiencing problems with your current scaffolding provider or you simply want to see what else is out there, doing some research into different companies is the best way to ensure you're working with the best. After all, there may be another company that offers better prices, or there could be a team of scaffolders that offers a wider range of services. However, you'll never know unless you shop around.
Perhaps you've recently set up your own business and you're hiring scaffolders for the first time, in which case, we can offer guidance on what to look for. Below, we explore the many different services offered by scaffolding companies along with how this could benefit your business.
Scaffold tower hire: what are my options?
Funnily enough, scaffolding companies hire out scaffold towers. These structures enable builders to construct, maintain and repair buildings, however, this is not a 'one size fits all' operation. On the contrary, there are many different types of structure that lend themselves to different jobs and scaffolding businesses offer variety to ensure your project can go ahead as planned. Perhaps you require lightweight scaffolding for a minor repair job, or maybe you need a tower that is specifically suited to interior work. The beauty of hiring a reputable scaffolding contractor is that they will likely have a wealth of options to choose from, enabling you and your team to complete the task at hand with ease.
When we picture scaffolding, we imagine steel or aluminium structures that scale an entire building, however, this is by no means the extent of what's on offer. Mobile elevating work platforms (MEWPs) can either be used in conjunction with or instead of scaffold towers and they provide construction workers with both high and low-level building access. Whereas scaffolding takes time to be delivered and erected, a MEWP can simply be driven to a job site and once it's been inspected for safety, it can be used more or less straight away. Whilst these platforms are indeed much smaller than traditional scaffold towers and can carry less people, they are extremely well suited to projects on a smaller scale and they provide workers with the access they need to tackle the job at hand.
Consultation
Far from simply providing you with a scaffold tower and leaving you to it, a reputable contractor will support you through all stages of the process. Firstly, they will visit your site prior to designing your structure in order to get a better understanding of your requirements and to discuss your project in further detail. This will enable them to build a tower that is perfectly suited to your needs and understand any obstacles that could crop up in order for these to be overcome effectively.
Then, in addition to assembling your scaffolding and dismantling it when work comes to an end, your dedicated team will be on hand at all times in between to answer any questions throughout the project. This means that if you're facing any challenges, you can consult your scaffolders and they will help you overcome any issues quickly to ensure your work doesn't suffer.
If you're currently working with contractors that are taking a more hands off approach to business, it may be worth considering switching. Working at height comes with certain risks and with this in mind, feeling supported by scaffolding contractors is essential. When you hire a scaffolding company that works with you cooperatively throughout, you can guarantee peace of mind as well as a smooth and stress-free project.
Safety training
When it comes to working at height, your safety is paramount and anything that can be done to improve working conditions is essential. Whilst scaffolding is specially designed to improve the safety and security of construction workers, unfortunately, accidents can happen and there are other precautions that must be taken to prevent injury.
This is where scaffolding businesses really come into their own. Many companies are qualified to conduct health and safety training courses for construction workers, giving them the confidence and essential information they need to work at height. Depending on the nature of your business, your staff members can be put on to different training courses that are run by qualified instructors. Not only will this give you peace of mind that your employees are as safe as possible on the job, but it will also empower them to take the correct precautions when working on a project.
Additional services
Whilst scaffolding companies are largely hired by construction workers, they do also offer some additional services that may appeal to homeowners. For example, some scaffolders offer to do building repair and maintenance work themselves and are trained to do so. Whether you require graffiti removal or roofing work done on your property, this can be done by a reputable scaffolder.
When trying to find a scaffolding company that's right for you, it's always worth checking out the additional services they offer. As well as being good value for money, hiring a business that offers a multitude of services is much more convenient for you as you won't need to hire different contractors for different tasks.
Whether you run a large construction business or a small household, scaffolding companies have lots to offer all customers and can take on projects on all different scales. So, if you're currently unhappy with the service you're receiving, take the time to do some research as there are tons of businesses that go above and beyond the call of duty when it comes to supplying scaffolding.
Looking to hire top-quality scaffolding platforms from experts in the business? Look no further than Hi-Point Access
At Hi-Point Access, scaffolding structures are just a small part of what we offer our customers. In addition to supplying a variety of MEWPs and different tower structures to suit a range of construction projects, we also have a registered and approved training centre. This allows us to conduct health and safety courses from our site, giving you and your employees the knowledge you need to operate safely no matter what project you're working on.
We also offer a consultation service to all of our clients and we strive to make ourselves available at all times, ensuring that when challenges do crop up, these can be tackled quickly and effectively. Expertise, quality, variety and experience are all words that accurately represent our business and we aim to demonstrate this in everything we do.
As well as offering top-quality scaffolding products, we also pride ourselves on being extremely amicable and easy to work with and our customer service skills are second to none. To discuss scaffolding prices with a member of our team, contact us today and get your project off to a flying start with Hi-Point Access.