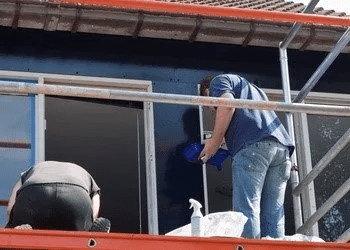 Scaffolding and the Commercial Sector
Scaffolding is an integral part of the building and construction industries; almost every building you see simply wouldn't have been built without the help of scaffolding, even those that are hundreds of years old. However, scaffolding has a lot more commercial uses than you might think, and is utilised everywhere from the cleaning industry to concerts and events.
Scaffolding provides a vital safety structure for both the building being worked on and the workers themselves, but it can also be used to reach places of height, add seating or place equipment. If you want to know more about just a few of scaffolding's commercial uses, see our list below.
Cleaning
From cleaning skyscraper windows to power washing a tall building, many cleaning jobs wouldn't be possible without scaffolding. It's even used for monumental cleaning and restoration jobs on landmarks like the Statue of Liberty or the Taj Mahal.
Concerts
Live music events (especially those in large arenas) rely on a strong scaffolding system to erect and hold heavy equipment in place, such as amplifiers, lighting rigs and cameras. Some concerts might also require temporary seating, when again scaffolding will be used to erect a short-term seating solution. Some hard-core performers have been known to climb the scaffolding while on stage but this is definitely not recommended!
Sporting events
Whether it's a temporary or permanent grandstand, all sporting arenas will be built with the help of scaffolding. If an event is particularly popular then a temporary grandstand might be added, and scaffolding can support a full range of facilities, from toilets to extra seating and bars. Like concerts, a sporting event might also need scaffolding to support lights, cameras or speakers.
Renovations
Many historical buildings and monuments will require renovations from time to time, and a carefully constructed scaffolding system is vital to avoid damaging the exterior. Many high profile buildings have gone under renovations and repairs using scaffolding, including Kensington Palace, Big Ben and the Sagrada Familia in Barcelona.
Painting and decorating
In most domestic homes, a ladder is probably sufficient when it comes to painting and decorating, but for town halls, huge offices or any other large building, a ladder probably won't be high enough to reach the ceilings. Indoor scaffolding is invaluable when it comes to painting and decorating larger homes, and the platforms are solid, secure and easy to erect.
Whether your next project is in construction, renovation or decorating, you need high-quality scaffolding hire you can trust. Here at Hi-Point Access, we have all the skills and equipment you need to make sure your next job goes ahead smoothly. No matter the size of the job or how complex the task, we have a range of scaffolding to suit your needs, including traditional, lightweight and mobile scaffolding. To discuss your next project further, give us a call or visit our website.