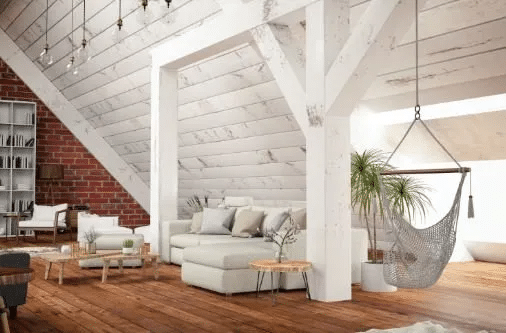 The Importance of Scaffolding for Home Renovations
If you're a homeowner looking to sell your property in the near future, you're likely to want to extract as much value from the sale as possible to go towards your new home. From redecorating to extending, there are a number of ways to achieve this.
But, no matter what type of home renovation you are considering, it's vital that you focus on the importance of health and safety. Whether you are completing the job as a DIY project or bringing in professionals, you'll need scaffolding to ensure that the project can be completed without injury.
In this article, we'll outline just a few ways that you can increase the value of your property, and how scaffolding can help to achieve it safely and efficiently.
SCAFFOLDING FOR LOFT CONVERSIONS
First and foremost, one of the very best ways to add significant value to your property is to convert your loft into a brand new room. Hiring the services of a scaffolding firm and builders, you'll be able to increase the space within your home and, therefore, increase the value. An additional room can make your home more attractive for potential buyers and it will also mean the property can go for a higher price.
Hiring scaffolding will make the whole process both easier and safer for all involved, allowing workers to reach any necessary heights, and have easy access to tools and equipment.
SCAFFOLDING FOR IMPROVING ENERGY EFFICIENCY
By improving the energy efficiency within your home, either by upgrading the insulation or installing new double glazed windows and doors, you'll be able to offer a home to a potential buyer which will cost far less to run in terms of energy usage. For many buyers, this is a huge advantage and can warrant a rise in the price.
Scaffolding may be necessary when replacing windows, particularly second or third floor windows, and can be a safer way to replace or upgrade insulation.
SCAFFOLDING FOR HOME EXTENSIONS
Home extensions are another way to add value to your home. Adding a garage, an extra bedroom, or simply increasing the size of your kitchen or bathroom is sure to add value to the price of your home, providing that costs do not exceed the eventual sale price.
Scaffolding is almost always necessary to complete home extensions, especially if you are intending to extend upwards, as well as outwards. It ensures the safety of workers, and will make the job easier by providing a larger surface to work from than regular ladders.
SCAFFOLDING FOR EXTERIOR RENOVATIONS
Other exterior renovations such as recladding, painting the façade, or replacing roof tiles can all help to, at least, maintain the value of your property if not increase the value.
However, scaffolding is usually necessary when working at heights, and the type of scaffolding required will vary depending on the job at hand.
Scaffolding Services in Sheffield and South Yorkshire
If you're not sure what scaffolding you need, get in touch today to discuss your project and learn more about Hi-Point Access. Our friendly team will be happy to advise you on safe and effective scaffolding to complete your project.
T: 0114 212 4447