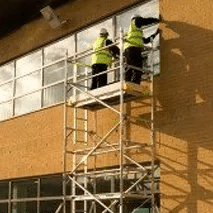 Questions to Ask Your Scaffolder
Scaffolding hire is essential for construction projects. The higher and more complex the building, the more essential the right scaffolding becomes.
It is clear that there are many advantages of using an expert scaffolding hire company for a building job. The benefits include the guaranteed health and safety, custom-designed scaffolding for your particular project, and additional services including erection, dismantling, and storage.
So, now that you've decided that a reputable professional scaffolding hire company is the right choice, how do you go about deciding the right on for you? There are a huge number of scaffolding businesses out there, but you need to make sure that you don't pick the wrong contractor. This could have a significant negative impact on your entire project, leading to delays and potential accidents/injuries/lawsuits.
It is important to do some online research and ask around before you decide on the company on you. Once you have a shortlist of names, you should then have a consultation with the company and get a quote for your project.
Read on for a list of questions to ask all potential scaffolding companies before deciding on the right one for you:
Will you be able to deliver the scaffolding rental within our project timelines?
This is a extremely important question for any construction projects. Delays can get extremely expensive as time is money on a building site. You need a scaffolding company that will confidently promise (and sign a contract) that they will deliver well within the timings that you have requested.
Ask the scaffolding contractors for a timeline which includes all elements from designing and erecting the installation to dismantling and transporting it off the site. This will highlight whether there are any lead times which may pose an issue, for instance, if they are getting their materials delivered from another supplier, could this lead to a delaly? You really don't want to be in a situation where you are left waiting and at the mercy of your scaffolding installation to commence your project. Once you behind schedule, you'll also start to go over budget.
Remember, if the scaffold installation is not ready and erected in time, your entire project will be delayed as your builders won't be able to reach higher floors and other hard to reach places within the construction. The company you choose should understand the importance of on-time completion. If you are unsure, ask to speak to a couple of their previous customers for extra assurance that they can deliver within the timelines set for them.
Can you provide a quote of your scaffolding prices for our project?
Naturally, a major deciding factor for the scaffolding rental company you go for will be the quote they provide. Give them the details of your building project and ask them to submit a quote that they guarantee they will keep to. You need to be clear that once a budget is set, it needs to be adhered to.
There are many horror stories about construction projects going massively over budget. Get a clear idea of the scaffolding prices, including a breakdown of the estimate that they give you. Get this all in writing and a signed agreement that no extra budget will be requested unless there are unforeseen circumstances that necessitate it.
What prior experience do you have with scaffolding rental for building projects like ours?
Whether you decide to get your scaffold tower hire from a company that has 10 years' experience or 2 years' experience, what is more important is finding out if they have the relevant experience. For instance, if you are about to embark on a complex commercial construction project that you require scaffolding for, it may not be the right fit for a company that has only provided scaffold tower hire for smaller home improvement projects.
Find out more about their past experience and ask to see examples of when they have worked with projects similar to yours.
Do you have a volume purchasing discount for regular customers?
Chances are, your building company will require scaffolding rental more than once. And once you find a reliable scaffolding company that you like working with, it would be a good idea to stick with them The question you want to ask is – will you receive any offers or discount for offering a high volume of scaffolding? See if the company is willing to negotiate and you can use them again for future jobs at a discounted rate, if all goes well.
Do you offer support services with your scaffolding equipment?
Whether you are renting or purchasing the scaffolding installations, you want to make sure that you will have the technical and design support of the experts in case anything goes wrong. Find out if this is included in the initial quote for the installation, as you never know when you might need assistance with the structure. Any issues could also lead to delays in your entire construction project, so you want to make sure that the scaffolding rental company is available for support if needed.
Do you have any additional delivery/dismantling/storage costs?
This goes back to the earlier point about getting a breakdown of the scaffolding price quote provided. You want to find out exactly what will be provided and what the company is able to provide. There may be certain scaffolding providers who are unable to offer some of these services. If you want a company that deals with the scaffolding installation from start to finish – including all delivery costs, make sure you specify this and find out exactly what those costs will be.
Can your equipment be mixed and used with equipment from other scaffolding suppliers?
This is an important question for future planning. You never know how long you will be working with a company and what may go wrong with pieces of equipment. You don't want to invest in scaffolding equipment which then can't be used in the future as it doesn't work with the materials that other scaffold companies use. You also don't want to be tied down to one specific supplier forever in case you find a better deal elsewhere in the future.
Do you provide any services other than scaffolding rental?
Find out whether the scaffolding company specialises in any other services. For instance, some scaffolding rental companies also offer skip hire. This can be useful to find out at the start so you can limit the number of suppliers you use. You also may be able to negotiate a better deal if you use a number of services from the same supplier.
Some scaffolding hire company will also provide trucks and drivers for your transport needs. Investigate all the services of a company. If you end up enjoying your working experience with them, why not use them for multiple jobs?

Remember, price shouldn't be the only deciding factor when you are deciding on a scaffolding partner for your building projects. Reliability and quality is also extremely important, and this may come at a slightly higher price.

If you're looking for a quality scaffolding company in Sheffield, get in touch with the team at Hi-Point Access. We have over 20 years providing quality scaffolding solutions for countless customers. We also offer a range of building installations and maintenance work so you can get an all round quality experience for your next project.
For more information on our range of services, give us a call on 0114 257 7600 to talk to our team.