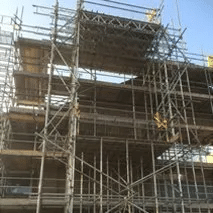 What services can a scaffolding hire company offer?
Other than scaffold tower hire, there are a number of other services that a reputable scaffolding company can offer. If you're looking for help with a larger or more complex building project, here's what else you can expect from a full-service scaffolding team:
Scaffold rental companies also have workers to erect the structure for you.
Erecting the scaffold tower requires some experience. Not only can you get your structure designed bespoke for your building project, a good company will also provide workers who know the structure and have the skills to put it up in a safe and reliable way. This saves you from having to hire extra building staff or use untrained workers to build it.
They may also have supervisory staff and managers to train up your workers on scaffold use.
If your construction project is on the complex side, extra workers may be necessary to help erect the scaffolding structure. Scaffolding companies often have supervisory staff that can provide training for builders and construction workers to help put up scaffolding. They can also oversee the scaffold build from start to finish and ensure that it is completed to the highest standards.
Crane operators and transport options are often also on offer.
Need a worker experienced at operating cranes? It is worth asking scaffolding companies. They can also offer extra vehicles and driver to help you transport equipment to and from your site, and safely within it as well.
They will be able to dismantle the scaffold structures for you.
Wondering how long it will take to dismantle the massive scaffold tower you've hired? Many scaffolding companies will include disassembly in their initial quote, as taking the structure down can be quicker if it's done by experienced workers. This also means that you don't need to pay your construction workers extra to stick around for the dismantling process once the building project is complete.
Scaffolding structures can be transported and stored away safely.
The scaffold hire company will take the structure away safely once your project is complete. If you need it for your next building project, they can store it easily for you. Remember to ask the companies you are getting initial quotes from to provide all these services in their estimate and include a price breakdown. This way, you can be clear of exactly what is included and remove the risk of going over budget.
As you can see, a quality scaffolding company can hire a full-blown service which includes everything from custom design to storage.
Planning a construction project? At Hi-Point Access Ltd., we offer reliable scaffolders in South Yorkshire or Derbyshire. Get in touch with our team today, and we'll aim to respond to your enquiry as quickly as possible.