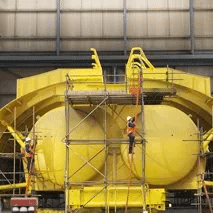 How to get Fantastic Service from Your Scaffolder
If you're searching for 'scaffolding near me', you may be in the initial stage of looking for quotes from scaffolding hire companies in your area for a construction project.
While scaffolding hire prices will play a big factor in the company you decide to go for, it is also important to focus on service. As with every contractor that you work with for your building project, an unreliable scaffolder has the ability to delay your entire project. You need to prioritise service, even if the cost of the scaffolding contractor known for good service is slightly higher than others in your area.
Remember, a reliable scaffolder can save you money in the long run as they can guarantee a more smoothly run project. There is also the added bonus of being able to use them for multiple projects. Finding a scaffolder with a quality product and good service is a huge find for a building company working on many complex construction projects. You'll want to make sure the working experience is good for both parties so that you can work together again.
So, what happens once you've hired a scaffolding company? The next step is working closely with them to ensure a successful project. As a customer, there is a lot that you can do to make sure that the working relationship with your scaffold provider is a good one. But, what exactly does that entail?
Here are some tips to help you get the optimum working experience with your scaffolding company:
Start by being very clear about your scaffolding requirements from the start
First things first, your scaffolder needs to understand your project needs to be able to offer you good service. By briefing them really clearly at the start and answering all their questions, you can ensure that they have a really solid understanding of what is required. They are then better able to advise you on the best scaffolding solution for you.
Get a quote with a breakdown of the scaffolding hire prices
A building project going over budget can be a very stressful experience. Make sure that this is not a result of your scaffold contractor not being clear with the cost of scaffolding. When you get an initial quote, you should find out exactly which services are included within it. For instance, some scaffold hire companies may not include transport or storage costs within their first quote. You should also find out if customer services and after service is included in the quote, in case of any issues during the project or after it.
If you're completely clear on what a scaffolding company can offer you and the price attached to it, you can plan your budget better and ensure you're getting everything you need for your project.
Discuss insurance at the start
Scaffolding hire companies are now legally required to have the necessary insurance cover. To avoid any issues with this and give yourself peace of mind, ask them to provide evidence before you hire them. This ensures that you're covered if there are any accidents and issues on-site.

There are massive consequences of hiring an uninsured scaffolding contractor, so make sure that anyone you hire has the proper cover.
Make sure that your scaffolding company has access to your construction site
The ability to access your site is important for your scaffolding provider, as it then means they're able to create the right structure for you. If they're not given the chance to view the space and access it as and when required, there may be issues with the eventual structure.
Make sure that the engineer working on the structure views your site and building so they can develop something that is suitable for your needs.
Keep the lines of communication open throughout the project
Once the scaffolding is up, you may think that it isn't necessary to keep in touch with your scaffolder. If you are working with a company for the first time, make sure to find out whether they have the availability to offer services throughout the project. If there are any issues with the structure, you may need to reach out and get these issues resolved quite quickly to ensure a safe building environment.
If you're unable to get in touch with your scaffolders for any repairs required, this could also lead to a project delay. And that's something you definitely want to avoid!
Use the same company for the entire scaffolding process
The scaffolding process doesn't just include provision of the structure. It also includes services such as custom design, erection of the towers, dismantling, transport and storage. Now, you can use different companies and your own workers for some of the stages of the process, but it is recommended that you use the same scaffolding company. They will have the necessary expertise and training to work on the structure. They will be able to dismantle it with more ease and efficiency than workers who weren't involved in its build.
Using just one company for all these services also saves you having to deal with many different suppliers or providers.
Ask for supervisory staff/management to be on-site for any training needs
Since the safety of your workers is your top priority on a building site, you want to ensure that there are no issues or accidents related to the scaffolding due to lack of knowledge. A professional scaffold hire company should be able to provide training for your staff to be able to use the scaffolding platforms with ease.
Not only should you make sure that everyone who is using the scaffold knows how to operate safely, you could also ask the company whether they have any supervisors or managers who can be available on site for the first couple of days. This is when any issues could come to light and they can be easily resolved if a member of the scaffolding company's staff is there. It would also be helpful in case any of your workers have any questions once they start using the scaffolding.

When it comes to selected the right scaffolding company for you, it's important to check any online reviews or customer testimonials. You could even ask to speak to previous customers so you can get a good reference. While you may find scaffolding contractors that are offering a good price, their level of service can only be found out by those who have worked with them before. Experience count for a lot in this industry, so ppt for someone with a proven track record and you're likely to have a smooth and easy working relationship with them.

Remember, when scaffolding is done properly, your entire building project will run more smoothly. If you're looking for a quality scaffolding company in Sheffield, get in touch with the team at Hi-Point Access. We have over 20 years providing quality scaffolding solutions for countless customers. We also offer a range of building installations and maintenance work so you can get an all-round quality experience for your next project.
For more information on our range of services, give us a call on 0114 257 7600 to talk to our team.