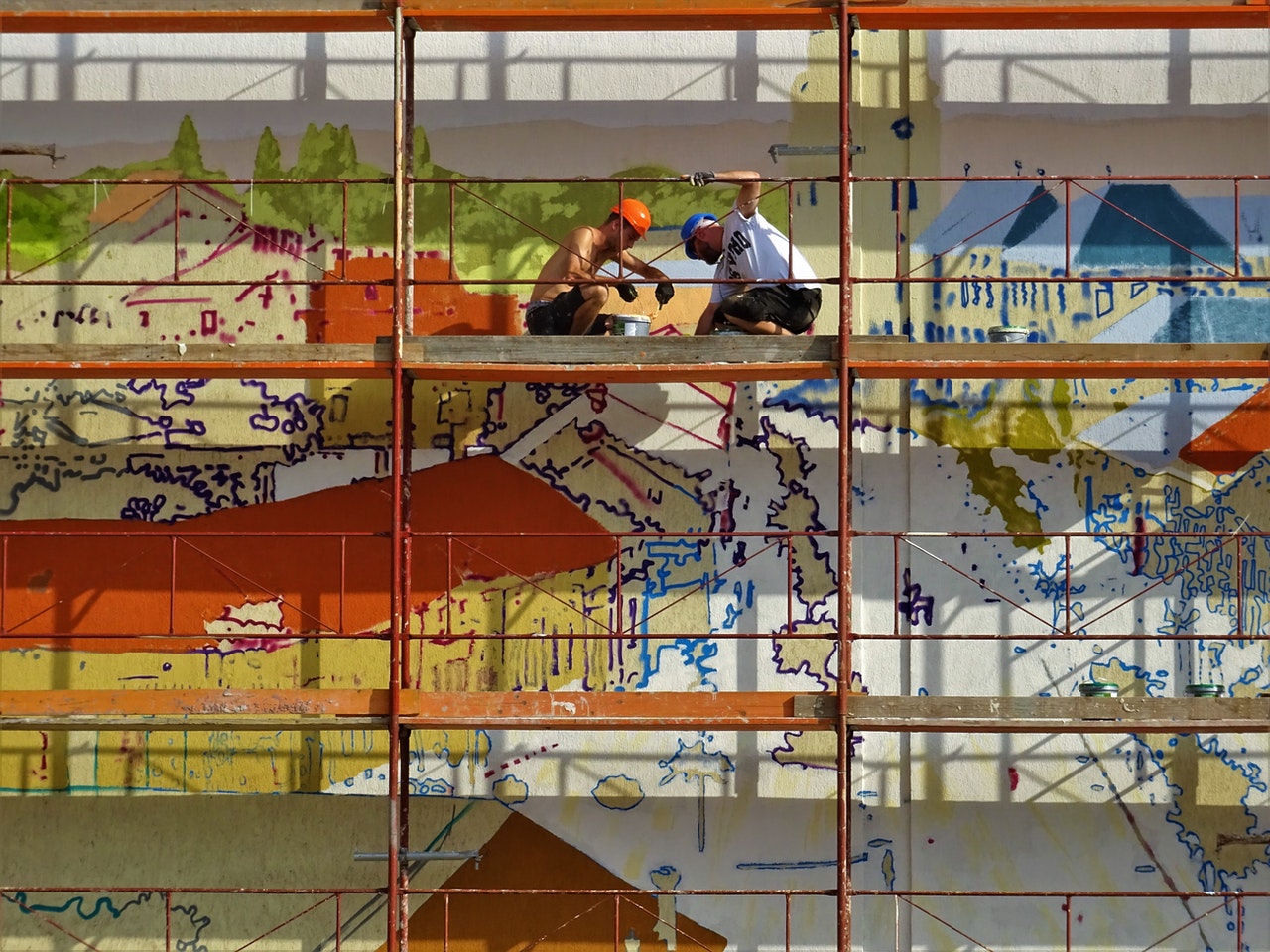 Painting & Decorating a House Using Scaffolding: A Guide
Scaffolding adds extra safety measures and reduces time and energy wasted when painting and decorating your house. In this blog, we will discuss the benefits of using scaffolding on both the interior and exterior of your house whilst decorating.
So, what scaffolding do you use for decorating? Aluminium scaffolding is recommended for decorating both the interior and exterior of houses as it is lightweight, easy to erect and move around the building.
Read on to learn the different types of scaffolding used in painting and decorating houses.
Do You Need Scaffolding for Painting a House?
Depending on the size of the building, you could require scaffolding to paint and decorate the house's exterior. Other options to consider are ladders and extension poles, a potentially risky balancing act. Ladders lack the added benefit of stability and platforms to place your tools down when manoeuvring about the building, allowing the opportunity for paint spillage. Extension poles will remove some of the energy required in climbing, however, they don't guarantee consistency, precision, and accuracy.
Weather is an important aspect that plays into your decision, as a ladder will not offer you much protection from heavy wind or rainfall. Once scaffolding is erected, there is no tiring extra work put into moving to different sections of the build, reaching across to higher areas, and balancing.
However, the answer to whether you need scaffolding to paint your house depends on your personal circumstances. Start by identifying your resources:
Budget – Consider your budget for painting and decorating. Scaffolding prices typically start from £250 with a free no obligation quote. Our friendly team at Hi Point Access will work together with you to find an accurate quote that matches your requirements.
Time – Do you have other responsibilities, such as work or family commitments that would take time away from decorating? This will affect the amount of time that scaffolding would need to be hired for, hence increasing the cost. Try to plan your time efficiently around events, expected weather and commitments.
Energy – If you are aiming to finish your project promptly, recognise that stepping up and down a ladder and moving its position will take up significantly more energy than traversing across a scaffold floor surface. Overexertion could cause fatigue or illness and lead to delays in completion.
Indoor Scaffolding for Painting
Unless your house has exceptionally high ceilings, the type of scaffolding you require for painting the interior of your house should be minimal, and you might find that you don't need indoor scaffolding at all. That being said, we recommend using mobile scaffolding for ease of use and manoeuvrability. Depending on the model, the height can also be adjusted to suit your needs and each unit comes with its own built-in ladder.
Scaffolding for External House Painting
Aluminium scaffolding offers an easy to carry option for painting the exterior of your house. Due to aluminium scaffolding being lightweight, erection times are more efficient, and the structure can be left safely standing while taking breaks. It is an appropriate choice for short term projects as it can be assembled and disassembled very quickly.
Utilising pre-erected components, mobile scaffolding towers can be moved around easily to fit the needs of fast-paced jobs, such as painting and decorating. Following an understanding that each project is unique, mobile scaffolding isn't just one size fits all. To determine the correct amount of scaffolding for your decorating project, specify the maximum height of your project, or contact our experts for a free, no-obligation quote.
Which Type of Scaffolding is used for Plastering?
Double scaffolding, also known as Mason's scaffolding, is used when plastering stone buildings due to the difficulty in making holes in the walls. Double scaffolding helps keep the structure sturdy enough for work. Holes should be made at skirting level for scaffolding support to avoid plaster leakage into a wall from the holes. The first half is fixed 20-30cms away from the wall with the second half being 1m away from the first. Putlogs are then positioned independently from the building.
How Do You Safely Decorate with Scaffolding?
To avoid accidents while you are painting your house, the scaffolding must be correctly assembled and positioned. Although, you can of course hire professionals, if you chose to erect scaffolding on your own, follow these recommendations:
Do not climb up the structure with your arms full of equipment, leaving you with no way to catch yourself or the equipment should you trip or drop it. Also do not overload the structure with heavy equipment or people. Before starting decorating, make sure you are aware of the limitations of the specific type of scaffolding you are using.
Make sure the structure is built following the manufacturer's instructions. Don't attempt to save time and energy by skipping steps, this is vital to the safety of yourself and others. Ensure the areas around the scaffolding are clear, bolts are properly secured and the boards lay flat. Guardrails should be placed around any area where you will move around the structure to protect against falls. If any of the components arrive damaged, contact the company you hired from immediately, and arrange a replacement. This may delay your progress briefly but it isn't worth risking your safety.
There is nothing wrong with enlisting help if you are unsure or not strong enough to lift the pieces by yourself. Pushing yourself too hard could lead to overexertion, delaying the process, or worse, sacrificing safety.
Decide where you need the scaffolding to be positioned before you start building. Despite most modern scaffolding options being lightweight and easy to move, you want to minimise time wasted in having to move or rebuild the structure.
For more information on scaffolding safety, follow the guidance set out by HSE.
To summarise, when considering which types of scaffolding suits your purposes, check the rules and regulations in place to ensure your safety. Enlist professional help if you need it and do not continue with a project if you are unsure or have broken scaffolding.
Scaffolding at Hi Point Access
At Hi Point, we pride ourselves on offering a one stop shop for scaffolding and access platforms. We tailor our mobile scaffolding and mobile tower solutions to work around your needs.
Browse our range of scaffolding or contact our friendly team to receive a free, no obligation quote.