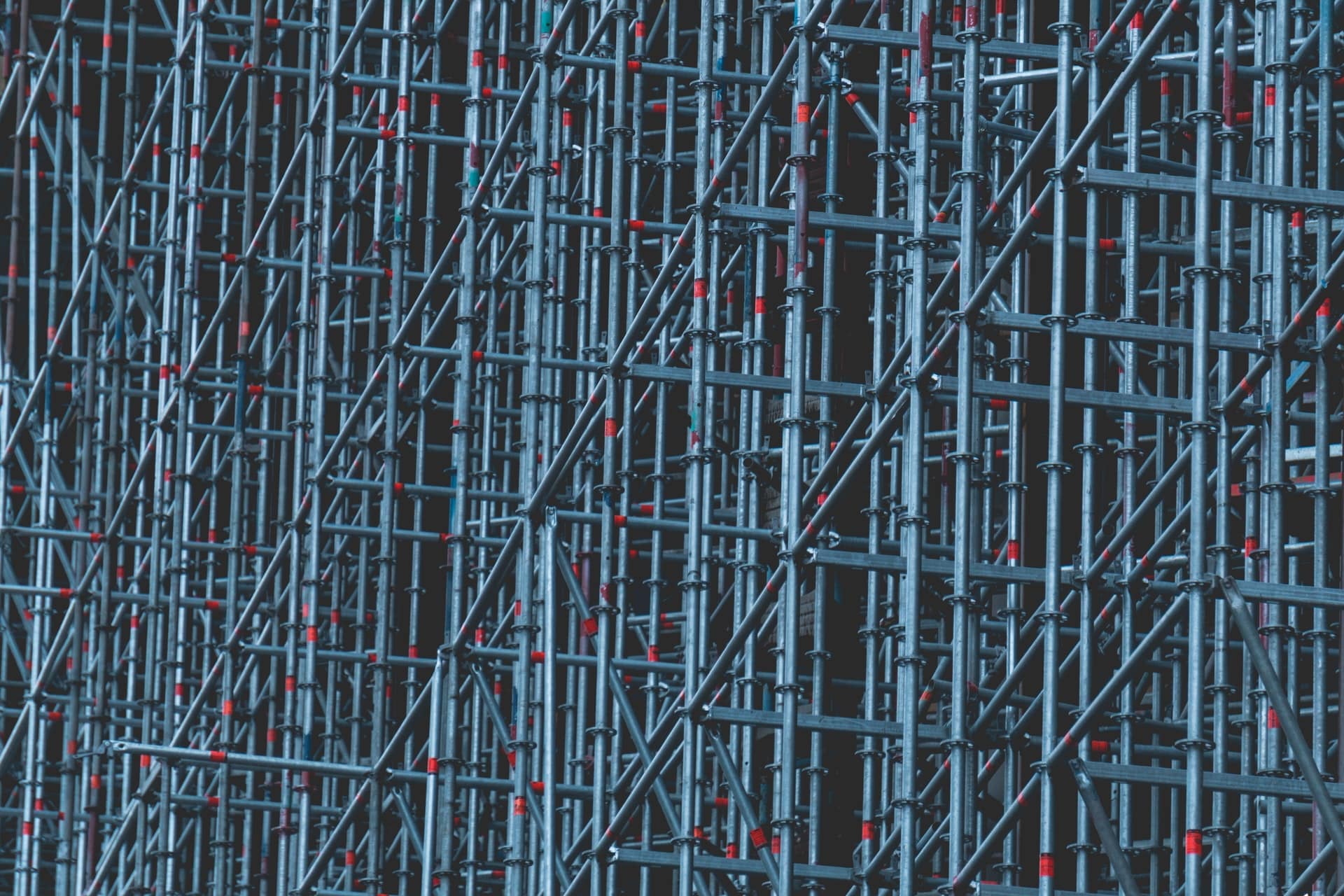 How Do You Know That Scaffolding is Not Ready for Use?
When erecting scaffolding, safety is of paramount importance, and it is critical to know when scaffolding is safe for use or not in order to avoid potentially devastating consequences. In this article, we discuss ways in which you can tell whether or not scaffolding is safe to use.
So, how do you know that scaffolding is not ready to use? Scaffolding tags are used to indicate whether or not scaffolding is ready to use. If the scaffolding tag is read, then this means that the scaffolding is unsafe, and not ready to use. Green indicates that the scaffolding is safe.
Scaffolding is a precarious operation, and as such, there have been several efforts made by Health and Safety Executive (HSE) to ensure that there is a standardised process for inspecting and labelling scaffolding structures in order to avoid tragic outcomes.
Jump To:
How Do I Know If My Scaffolding is Safe?
If your scaffolding is safe to use then you will see a green scaffolding tag on the scaffold. This gives you the all-clear to climb the scaffold and carry out your work safely in the knowledge that the green tag is only added to the scaffold once it has been thoroughly inspected and approved for use.
However, while a green scaffold is evidence that the scaffold is safe for use, we would encourage you not to blindly accept this as a given. Use your own judgement and carry out your own inspections if anything does not appear right.
What are Scaffolding Tags?
Scaffolding tags are used as visual indicators to show if a scaffold structure is safe to use or not, and as such, protect the lives of your workers.
Scaffolding tags are an extremely efficient means to showcase whether the scaffold structure is compliant with health and safety standards, and their use is so common practice within the construction industry that it has become the standard method of confirming scaffolding safety worldwide.
What are the Different Types of Scaffolding Tags and What Do They Mean?
There are two main types of scaffolding tags; red and green. In an environment where there is no room for being 'unsure' on whether or not your scaffolding is safe and the seriousness of making the wrong call, this makes sense.
Red Scaffolding Tags
Red scaffolding tags indicate that the scaffolding is not safe, or that the scaffolding structure is incomplete. So, if you see a red tag, it is a sign not to mount the structure until further notice.
Green Scaffolding Tags
In contrast, green scaffolding tags indicate that the scaffolding is safe to use, and has passed all the required inspections. As such, a green scaffolding tag is your sign that construction work and repairs can go ahead.
Although red and green scaffolding tags give the clearest indicator and are the most common, there are also yellow tags that are used in very specific use cases.
Yellow Scaffolding Tags
Yellow tags are commonly known as 'CAUTION' tags. They are used to replace green scaffolding tags when the scaffolding structure is altered during construction, and as a result, may present a health and safety hazard to the user. This is only a temporary measure as all efforts should be made to return to green scaffolding tags as soon as possible.
If you'd like to learn more about scaffolding tags, we 've recently written a comprehensive guide on the different types of scaffolding tags and their use cases.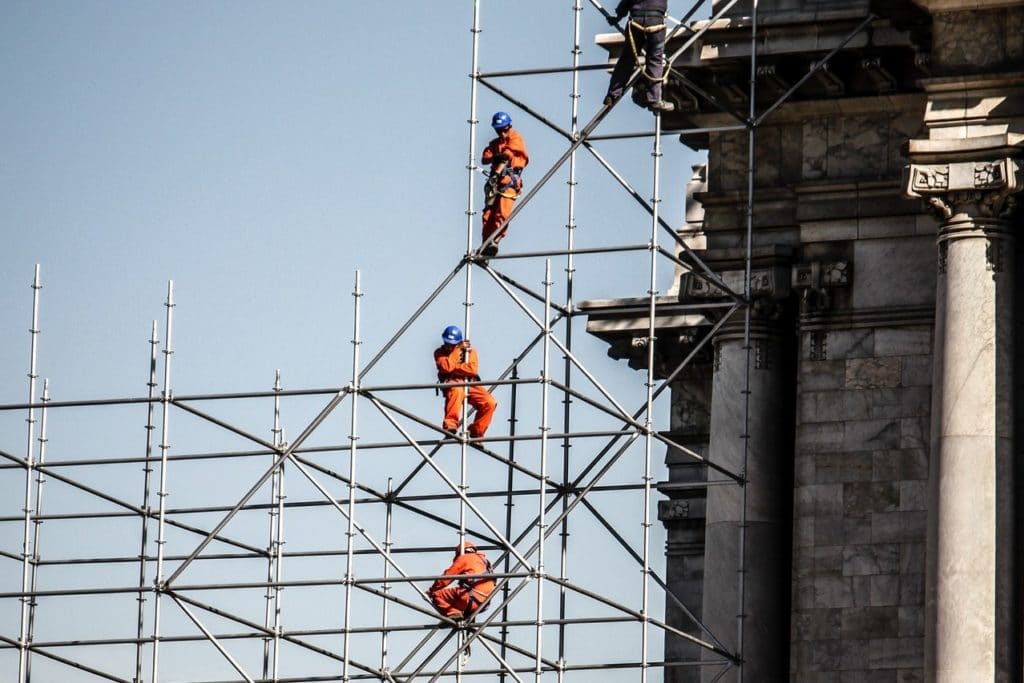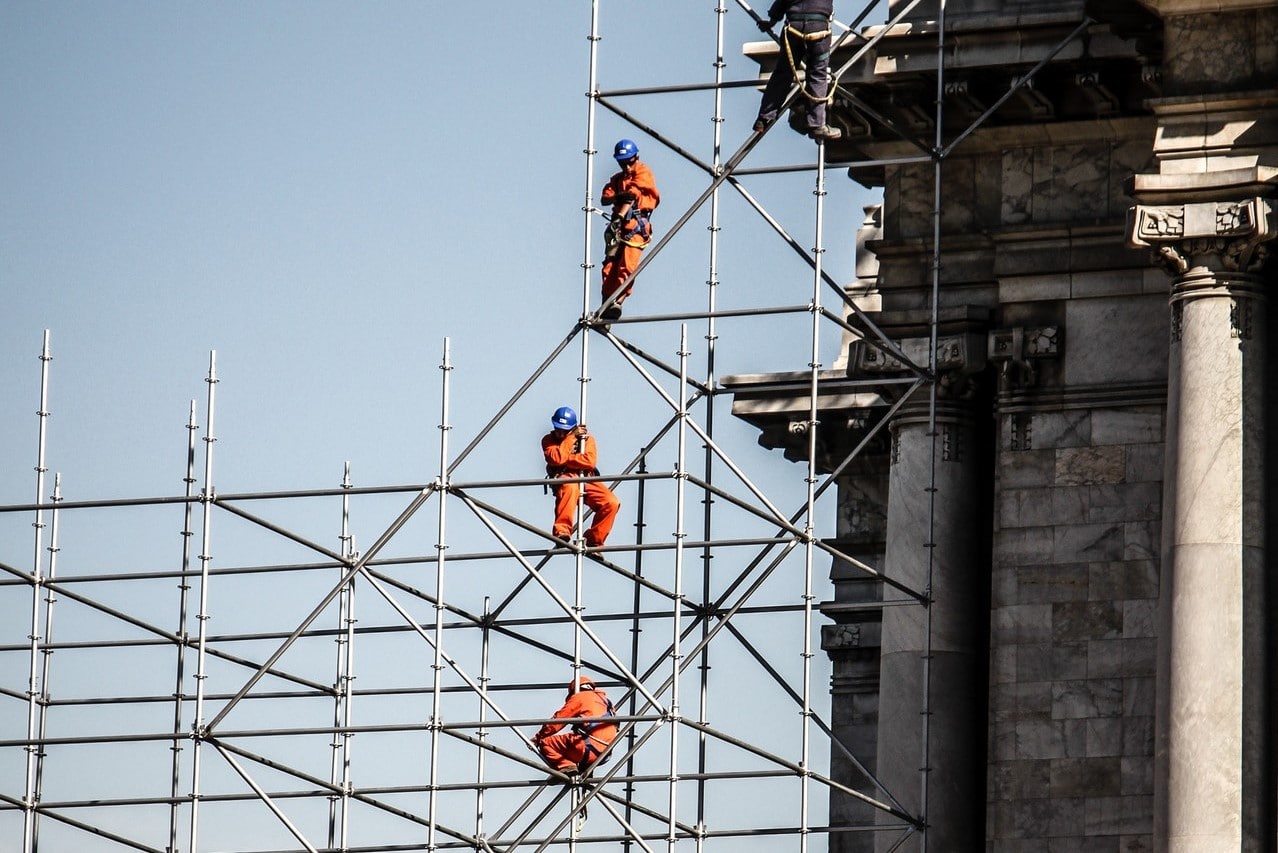 What are the Safety Rules When Constructing Scaffolding?
Whilst scaffolding tags are not a legal requirement, the law does require inspection of scaffolding structures if there is the possibility a person might fall 2 metres or more, and the issue of a report by a competent person, both on completion and at least once a week thereafter.
A competent person is defined as someone who has the necessary skills, knowledge, and experience to carry out inspections. At Hi-Point, we also provide professional safety training across the scaffolding industry and do so to the very highest standards – reducing accident statistics by allowing individuals and employers to meet the criteria set out in the Health and Safety Work Act 1974.
How and Why Do We Inspect Scaffolding?
Inspecting scaffolding is a legal requirement, and failure to do so may result in damage claims being brought against developers, or worse, loss of life of your workers.
That is why inspections are of paramount importance – and simply cannot be overlooked.
When Should You Inspect Scaffolding?
An inspection of your scaffold is mandatory before you can allow workers to start work. Thereafter, the HSE states that you should carry out an inspection every 7 days. It is also recommended that inspections should be carried out anytime the site experiences poor weather conditions such as high winds or excess water runoff.
How to Inspect Your Scaffolding
Scaffolding inspections should be carried out by a competent person who has had extensive experience in the scaffolding industry, however here are the key inspection areas that everyone on-site that everyone should be aware of:
Scaffold Base Structure
Check if the type of scaffold is correct for the loads, materials, workers, and weather conditions.
Ensure that any power lines near the scaffold are de-energised.
Inspect footings to make sure they are level and firm and can support the scaffold structure
Ensure that legs, posts, and frames are on baseplates and mudsills
Check for general wear and tear (bends, cracks, rust, etc.) across the scaffold structure.
Check for safe access – cross braces should not be used as a replacement for a ladder for access and/or exit.
Planks
Inspect wooden planks to ensure that there are no cracks or splits.
Ensure planks are laid close together, with no spaces greater than 1 inch around the uprights.
Ensure the planks (10ft and under) are 6 to 10 inches over the centerline of the support.
Platform
Ensure that the platform is 14 inches or less from the wall.
Make sure that guardrails are correctly in the place where work is being carried out.
Make sure that workers wear hard hats and fall protection (including workers under the platform). Check out our guide to fall protection here.
To prevent tipping make sure that braces, tie-ins and guying is used at each end, vertically and horizontally.
Scaffolding Tagging and Inspection
Make sure that once you have completed your inspection that you mark your structure with relevant scaffolding tags to indicate that the scaffold is ready for use, or not.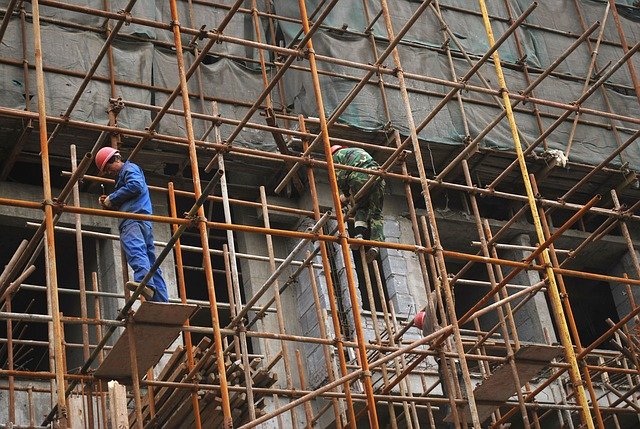 Scaffolding Erectors in Sheffield
At Hi-Point Scaffolding, we are one of the leading scaffolding companies in Sheffield, and provide access solutions to businesses in and around the South Yorkshire region.
No job is too small, and we offer a wide range of scaffolding solutions, including traditional scaffolding, aluminium scaffolding, indoor scaffolding, and access platforms.
If you would like to enquire about our scaffolding services or scaffold safety training, then we'd love to hear from you. You can get in touch here or by calling us on 0114 357 7600.