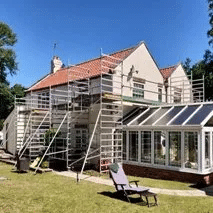 A Guide to Choosing a Scaffolding Hire Company
When enlisting the help of professionals to assist with an important project, you want to ensure you're hiring the best team for the job. Whether you're hiring removal experts to help you move house or decorators to revamp your office space, it's essential that the job is done to the highest standard.
This is especially applicable when it comes to scaffolding. Not only will a scaffold tower play a significant part in the success of a construction project, but also, if the structure is poorly designed, this could compromise the safety of both employees and passers-by. With this in mind, it's essential to work with scaffolding contractors that are experienced, qualified and, most importantly, safety-conscious.
That being said, finding a reputable scaffolding company is sometimes easier said than done. There are countless companies that all claim to be experts in the field and provide a flawless service and it can be tempting to select a company quickly for the sake of ease. However, it definitely pays to do your research as it's important to work with contractors that can accommodate your specific needs to ensure your project can proceed as planned.
It's all well and good knowing that you have to find the 'right' scaffolders to assist your business, but what's the best way to approach your search? Below, we've created a guide on how to source the perfect scaffolding company to ensure your upcoming project goes without a hitch.
Do they have the experience?
It may seem like an obvious point to make, but the more experience a company has, the more likely they are to deliver a top-quality service. Businesses with years of experience under their belts will have had time to adapt and evolve their services to suit the needs of their client-base and with this in mind, they will be highly in tune with what customers need. Whilst it's a good idea to check out a scaffolder's website anyway, it's especially important to check and see how long the company has been in business for to ascertain whether or not they are worth working with. This will usually be mentioned on the website homepage, however, if you can't find any mention of experience, it may be worth giving the company a call to find out.
Additionally, you should also take a look at some reviews to get a better feel for how the company interacts with clients. As well as highlighting a business's strengths and weaknesses, this will give you an idea of what the company will be like to work with and may highlight any potential red flags.
Lastly, when doing your research, take a look through company portfolios to see examples of their previous work. If you have any special requirements for your project or your building has any unique features, a portfolio will give you an idea of whether or not a scaffolding company has experience completing jobs similar to yours and if so, you'll know that they're up to the task. However, if a company's portfolio is not readily available on their website, this is something you can inquire about when you make contact.
Are they qualified and insured?
As previously mentioned, scaffolding has the power to make or break a construction operation. From poor quality materials to incorrect assembly, even putting one foot wrong could have disastrous consequences. Whilst many people have to undergo training to do a certain job, it's especially important for scaffolders to be qualified to do their job. In fact, it's a requirement.
With this in mind, it's essential for you to question a company as to their staff's qualifications before hiring them. Not only will this assure you that they're capable to take on your project, but it will also give you peace of mind that your staff members are safe, allowing you to focus on other more pressing matters.
Additionally, a scaffolding contractor should have insurance that covers both themselves and their clients. In order to ensure you and your staff members are properly protected, it's advisable to check that a scaffolding business has public liability insurance. This is essential for businesses that operate on client sites as it will cover any legal expenses or compensation claims in the event that someone is injured or property is damaged. When liaising with scaffolders, ask if they have taken out public liability insurance as if they haven't, this is a sign to steer clear.
Do they take the correct safety precautions?
When it comes to scaffolding, safety is of the utmost importance. After all, working at height comes with a whole host of risks and it's essential that these are managed properly to minimise the likelihood of any accidents occurring. A reputable scaffolder will visit your job site prior to designing your scaffold tower to better understand your specific needs. They will likely carry out an in-depth risk assessment to ensure that any obstacles can be correctly overcome, and they will identify any access restrictions in order to plan around this issue ahead of time.
Understanding risks and obstacles is essential to overcoming them and if a scaffolder doesn't have much regard for safety, this is definitely a sign that they're not worth working with. Professionals that work with you to understand your requirements are bound to deliver a more satisfactory service and more importantly, they're more likely to build a scaffold tower that's safe and secure.
How much does scaffold hire cost?
It should come as no surprise that prices for hiring scaffolding will vary between businesses, however, there are ways to ensure you're not paying over the odds for these services. To find the best possible price, collect a few quotes before you commit to working with a company and perhaps speak to anyone you know who may have worked with scaffolders in the past. This is the only way to ensure you're getting a fair deal and is not too much effort on your part.
However, whilst we all want to pay the lowest price possible, we don't want the quality of the service to be compromised. With this in mind, it's essential to bear other aspects of the business in mind when assessing prices as you don't want to risk paying for a substandard service.
From Genie lifts to scissor lift hire: what can scaffolders offer you?
When considering which scaffolding business to work with, it's imperative to think about the finer details of your operation. Yes, you require a traditional scaffold tower, but are there any other pieces of equipment you need for your project?
Many scaffolding businesses have a variety of mobile elevating work platforms (MEWPs) that can be used to gain access to even the tightest corners of a building. These lifts can handle heavy loads, allowing builders to have all the equipment they need to hand and they're also extremely compact and light in weight. Whether you require the use of a Genie lift to access all levels of a building or you need a scissor lift to give you more space to work, certain scaffolding experts will have this equipment available for hire. So, upon contacting a business, it's essential to find out what equipment they have to ascertain whether or not they're the right fit for your operation.
At Hi-Point Access, we are a scaffolding hire company that ticks all the boxes. In addition to having a wealth of experience in the industry, our staff are all familiar with current legislation and they are all fully qualified to take on the task at hand.
In addition to scaffold towers, we have MEWPs available for hire and our equipment is varied to ensure that we can take on both small and large-scale projects.
We prioritise safety above everything else. That's why prior to designing your scaffolding, we'll visit your job site to ensure we create the perfect structure for your requirements. We also offer safety training for those working at height, giving your staff members the knowledge and the confidence they need to carry out their jobs safely and efficiently. If you're on the lookout for scaffolding near you, contact us today and take your business to new heights with Hi-Point Access.