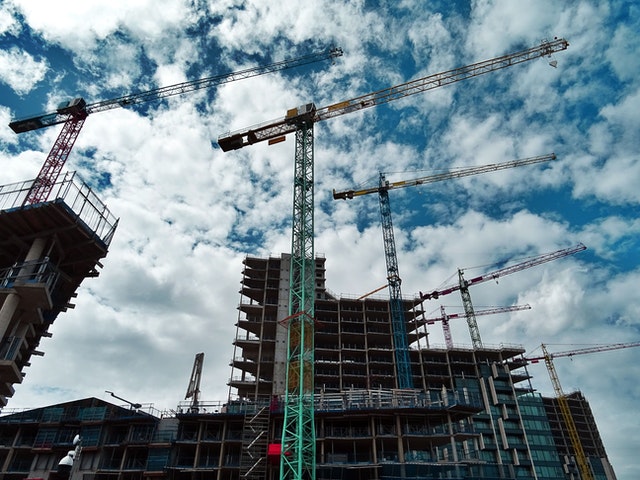 What are the Hazards of Working on Scaffolding?
If you work in the construction industry, chances are that you're all too familiar with hazards relating to scaffolding. In this article we look at some of the most common hazards of working on scaffolding, and scaffolding precautions  and control measures that can minimise risks on site.
Jump to:
5 Common Hazards on Scaffolding Sites
Below are 5 of the most common hazards encountered on scaffolding sites.
Falling from a height (and falling materials)
Working from heights brings about a number of hazards, namely falling from a height, and materials falling from a height. This is one of the biggest causes of injury in the industry, and can be prevented with a few simple steps as outlined above.
Scaffolding collapse
A potentially fatal hazard, scaffolding collapse happens when scaffolding hasn't been erected correctly, or a corner has been cut. Follow our suggestions above to ensure that scaffolding is installed correctly, minimising risks on site.
Ineffective or incorrect PPE
Ineffective or incorrect PPE can make other hazards more dangerous. For example, not wearing a hard hat and materials falling from above, hitting you on the head would be far more severe than if you wore a suitable hat. Similarly, wearing incorrect boots could result in a foot injury as a result of falling materials.
Weather
Bad weather conditions pose a serious hazard when working at a height. Check that scaffolding has been erected properly before working in such conditions, and ensure to wear the correct, effective PPE.
Electrocution
Before erecting scaffolding, electrical wires should be taken into account, as they pose a serious electrocution hazard to workers. Follow our advice above when working on scaffolding near electrical wires.
Scaffolding Hazards, Precautions, and Control Measures
There are a few simple steps that construction workers, and managers, can take to help to prevent accidents from occurring on site. These include:
Working from Heights
Erecting guardrails on all scaffolding over 10ft
Ensure tightly planked platforms
Ensure that ladders or stairways are present
Slips and Falls
Don't work on scaffolding that is covered with ice, snow, or other materials which could induce an accident
Anti-slip treads should be used on stairways and landings
If scaffolding is considerably sloped, cleats are recommended to provide sufficient footing
Falling Objects
Ensure that areas within the fall zone are barricaded off, or have a protective canopy
Use toe boards along the edge of platforms
Contain larger objects with panels or screens
Scaffolding Collapses
Use appropriate scaffolding that can carry a minimum of 4 times the intended weight load
Ensure that scaffolding is only erected, moved, altered, or dismantled under the supervision of a competent person with the relevant experience/qualifications. They must also inspect the scaffolding periodically. 
Materials used should be appropriate the the job and environmental conditions
Ensure that materials such as brackets, bolts, screws etc have no damage prior to assembly
Electrocution
Ensure that scaffolding is erected at least 10ft from power lines
Pay special attention to overhead power lines when erecting scaffolding
Hire Competent Scaffolding Erectors in Sheffield
Hi-Point Access are trained, experienced scaffolding erectors working in Sheffield and across South Yorkshire. Get in touch with us today to ensure that your scaffolding is installed correctly, and that hazards on site are minimised.