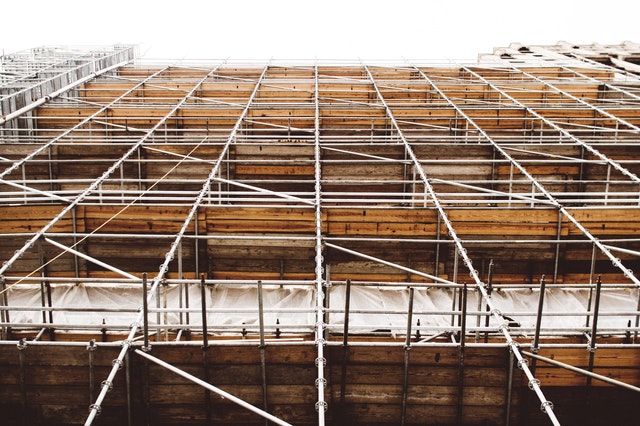 Everything You Need to Know About Scaffold Boards
Scaffold boards are an essential element of any construction project that involves working at a height. In recent years, however, scaffold boards have also made their way out of the construction industry, and become popular materials in decoration projects and renovations. In this blog, we take a closer look at what scaffold boards are, their specifications, and their uses.
Jump to:
What are scaffold boards?
Scaffold boards are long and narrow pieces of wood used in scaffolding assembly to create load-bearing platforms that allow constructors to safely work at height. To be safe for use, scaffold boards must be compliant with the latest British Standard, which specifies board sizing, board construction, and timber quality of the materials.
What are scaffold boards used for?
Scaffold boards are one of the three main components of scaffolding, alongside tubes and couplers. The boards are used to provide safe working platforms within the scaffold structure. They are assembled side by side to create platforms of various widths. At Hi-Point Scaffolding, we use scaffolding boards in the installation of our aluminium scaffolding, steel tube scaffolding, and indoor scaffolding structures.
Because of their importance to the health and safety of those using the scaffolding structure, scaffold boards ought to be replaced regularly, whenever they show signs of wear and tear, warps, begin to crack, or are otherwise deemed unfit for purpose. As a result, discarded scaffold boards are readily available and have gained popularity as a material in upcycling projects like furniture builds, decking, and planters assembly.
Scaffold Board Dimensions
As mentioned above, to ensure that scaffold boards are safe to use, they must comply with the specifications of the British Standard. The dimensions of the boards are clearly specified, including width, length,  and thickness.
How wide is a scaffold board?
All scaffold boards used in the UK must comply with the British Standard 2482. As such, all scaffold boards have a standard width of 22.5 cm.
How long is a scaffold board?
Scaffold boards are commonly available in lengths of  1.5 m, 1.8 m, 2.4 m, 3.0 m, and the standard maximum length of 3.9m.
How thick is a scaffold board?
Standard scaffold boards are available in three thicknesses: 38 mm, 45 mm, and 63 mm. The thickness of the board influences its support span and therefore the kind of projects that it is suitable for. 38 mm boards are the most commonly used.
What are scaffold boards made of?
The British Standard stipulates that scaffold boards used in the UK must be made of European Whitewood, preferred due to its fibre strength and structural integrity.
Why do scaffold boards have metal end bands?
Scaffold boards are banded on each end with a secured metal strip. These bands provide extra protection to the boards, to decrease wear and tear and stop them from splitting. The bands are also used to mark the boards with essential information, including the BS code and manufacture year, supplier ID, an indication of whether the board was graded visually or by a machine, and its support span.
How are scaffold boards upcycled?
In recent years, there has been a noticeable increase in companies and individuals adopting discarded scaffold boards for their upcycling projects. The boards make suitable materials for a variety of projects, as they are made of hard, durable material that is dried and seasoned to increase its resistance. Additionally, discarded scaffold boards are widely available, as the construction industry uses and replaces them frequently and in large quantities, for the reasons stated above.
The boards are also long, wide, and thick, at a difference from most commercially available timber, making them the ideal size for deck flooring, raised flower beds, and building unique, industrially inspired furniture.
Learn more about scaffolding with Hi-Point Access
Hi Point Access are expert providers of access solutions with over 30 years of experience working across Sheffield, Yorkshire, and the North Midlands. You can learn more about scaffolding and its uses on our blog, or visit our access services page to learn more about our work.