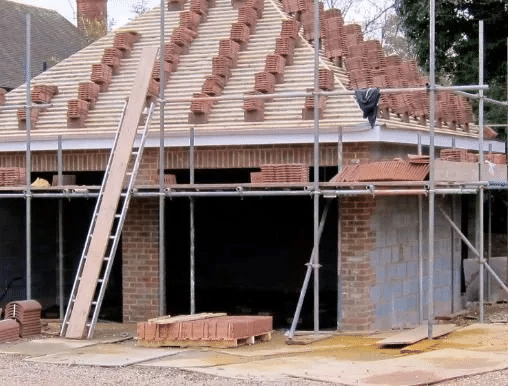 Top Exterior Design Features to Add to Your Home According to Scaffolding Contractors
Revamping your home's exterior can instantly improve the overall look of your property. There are a number of ways you can do this, from something more budget-friendly that focuses on cosmetic changes to new installations that can make a big architectural difference.
Exterior design features will increase your home's kerb appeal, making your property the best on the street – who wouldn't want that? For many, these changes are a much more cost-effective option compared to moving house, with even the simplest of modifications you'd be surprised just how much of a difference it can make.
So, what exterior features could you add to your home? Read on for a mini guide on all you need to know.
What exterior changes do scaffolding companies suggest?
When it comes to designing a great home, it's not just about the interior, but the exterior too. Your home should look and feel good inside and out, so below we explain some top ways that you can make your exterior stand out.
Repainting your home
If your property's paint job has been better days, then it may be a good idea to give it a fresh coat of paint. It's easy to forget about this area of the home, even if you do look at it everyday! After several years, paint can become weather damaged and chipped, making your home look older than it actually is. Giving things a freshen up with a lick of paint, can brighten up your home and make it look more inviting. This can also add more protection to your home such as preventing moisture seeping through to your property.
Replacing windows and doors
Not only can old windows and doors be unsafe, but they can look unsightly. Your front door is one of the first things that you, your neighbours and your guests see, as the centre point of your home's exterior. A high-quality, durable and aesthetically pleasing front door is can instantly set a good first impression about your home.
Similarly, windows should also be updated if they are physically damaged and no longer serve their purpose. As well as letting light in to your home, a good set on windows can reduce your energy bills, reduce noise and increase security – in fact, according to Money Supermarket, A-rated windows could save you as much as £110 per year. Just keep on top of your window cleaning and they'll always look good!
Add a porch
Another practical and interesting way of improving your home's exterior is by adding a porch. With many different styles available you can add character to your home, another layer of protection to your property and experience the benefit of having somewhere to keep your muddy shoes outside of the home.
Installing an extension
Extensions are one of the most popular home improvements in the UK. Everyone wants more space in their home, whether it be a kitchen extension, conservatory or loft conversion. Extensions add value to your home, as well as make your property a more functional space that suits your needs. Open plan kitchen diners are a great way of making your kitchen more functional and encouraging your family to eat together, or a conservatory can be made into a multi-functional room.
Fixing your roof
As the main form of protection over your home, your roof should never be neglected. Missing tiles and other kinds of damage can result in more complicated repairs if they are not fixed soon after they occur. Roof maintenance will save you money in the long run, as well as improve things in terms of appearance – cracked tiles and broken gutters are not the best to look at.
Redesigning your garden
There are so many creative ways that you can use your garden, and with some expert help you can build the perfect outdoor space. Perhaps you'd like to redesign your garden so each area such a specific use, such as a space for seating, a pond, play area or decking. You could also add some colour into your garden and plant a range of flowers and shrubs so your garden comes all year round. With a beautifully designed outdoor space, your summer will be full of parties and barbeques, and with a cosy snug you can still enjoy the outdoors through autumn and winter too as you snuggle up round a chiminea.
Add lighting
Lighting can work in the front and back of your home. In the front, it can illuminate your driveway and make you feel safer when you return home. Furthermore, lighting can be an effective deterrent for opportunists looking to damage or break in to your property. In the back, it can make your garden look pretty and of course, keep it well-lit so you can use it all year round.
Improve your driveway
Whether you'd like a completely new driveway or you simply want to give your current one a revamp, the change can improve things for the better. Paved driveways can be cleaned up be removing weeds and debris from in between the slabs, and giving the surface freshen up with a professional driveway product what will protect it from weather damage. Alternatively, why not hire an expert driveway cleaning service?
Install a garage
Most homes have a garage, and adding one can improve your home's value and make life a whole lot easier in many ways. There are lots of uses for a garage such as storing your car, holding seasonal items such as christmas decorations or even converting it into another room such as an office or gym. Matching your garage door to your front door will ensure everything is well-designed.
What are the benefits of improving your property's exterior?
Here we explain some of the top benefits of improving your property's exterior.
Creates kerb appeal
Kerb appeal is not just aimed at your neighbours but you too – what's better than returning to a home that looks great from the outside as well as inside? A home that's in need of repairs and looks old is not inviting, and could affect your mood. Your property should be something you're proud of, and improving the exterior is one way you can achieve this.
Adds value
If you plan on selling your property soon or in the near future, working on the exterior could add value to your home which means you can increase the asking price. Even simple changes such as a new paint job can instantly boost how things look and make your property much more attractive to buyers.
It's an investment
Exterior changes, such as those mentioned, are great investments for the future. Keeping on top of exterior jobs it a great way of minimising damage, or creating long-term benefits such as those you can gain from a garage or new windows and doors – over time the initial cost will definitely be worth it.
Hi Point Access: High-quality construction scaffolding and elevated work platforms
Here at Hi Point Access, based in South Yorkshire, we have a team of reliable and professional employees who can help with various scaffolding services. If your exterior design features require scaffolding, look no further than us to keep the area safe and ensure that work can be done efficiently. We also specialise in high level window cleaning for domestic and commercial clients. For more information, get in touch today.