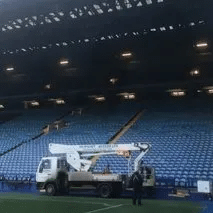 Industries that rely on Scaffolding aside from construction
When you think of scaffolding your mind likely jumps straight to the construction industry, and for good reason. When we see scaffolding in action, a lot of the time it is being used to allow builders to reach those high up spots on site.

However, having a quality access solution can be extremely beneficial for a variety of industries that may find themselves working at height. With this in mind, we at Hi-Point Access Ltd decided to delve a little deeper and look into some of the other industries that may need a quality scaffold.
Renovating and home improvement
According to the Digital Journal, Europe is seeing a sharp increase in home improvements, and this is no different for the UK. As we continue to renovate and improve our properties, the need for domestic scaffolding has grown.

Luckily there are a variety of styles of scaffold that work exceptionally well for smaller scale jobs like home renovation. Lightweight access platforms can be put up quickly and easily around the property, whilst indoor scaffolds can be built over uneven flooring like staircases.
Building inspections and civil engineering
Before and after the building has gone up, it's still important to keep up to date with regular spot checks on its structural integrity; this is where building inspectors and civil engineers come in. To adequately inspect the exterior infrastructure of the building in question, it's important to get up close and personal to assess the situation.

Scaffolding then makes the job much easier, creating a steady platform to carry out important analysis to ensure our constructs remain standing safely.
Window cleaning
A pretty obvious one when it comes to working at height, window cleaning businesses need to be able to access a multitude of high access areas around a property. Although they may have a variety of ways they may achieve this, through climbing gear and long-reaching cleaning equipment, sometimes they may need something a little bit more sturdy.

Mobile elevated work platforms, or MEWPs, are great for this kind of work due to their superior manoeuvrability and ability to hold equipment on the platform whilst you work.
Film and television
You may be surprised, but there is a whole industry devoted to scaffolding and gripping in film and television productions. From getting those high angle shots, setting up lighting, or being used as a temporary stage, scaffolding is an essential component in the rig work that goes on behind the scenes of our favourite shows.
Work with the scaffolding experts at Hi-Point Access
Scaffolding remains a pretty essential tool for a variety of industries, which is why you need to work with an expert company with the knowledge and equipment to utilise a multitude of scaffold designs effectively.

At Hi-Point Access, we offer a range of scaffolding solutions to fit your specific needs, from traditional scaffold fabrications to MEWPs for those trickier jobs. To find out more about how we can help with your next job working at height, give us a call on 0114 257 7600.