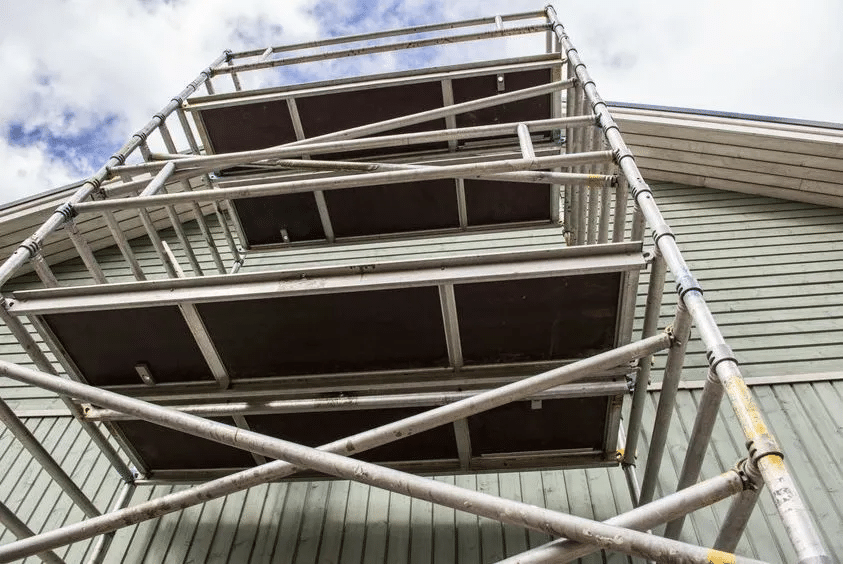 How Can a Work Platform Help During Your Next Project
For those who are required to work at height on a daily basis, work platforms such as scaffolding towers are likely to be a crucial part of day-to-day tasks. Whether you're working on a large-scale construction project, updating the roof of a building or simply washing windows, work platforms are often instrumental in helping people access those hard to reach areas, plus, they keep you safe when working above ground level.
When it comes to work platforms, it's not a 'one size fits all' operation. On the contrary, there are many different types of platforms that are suitable for different tasks, and picking the right equipment for the job at hand is essential. Platforms, lifts and access towers all come under the term 'work platform', and within these categories there is a variation of different equipment. It's important to rely on a scaffolding company that has access to a variety of different work platforms so that you have exactly what you need to complete your project to the highest standard.
In addition to causing delays or disruption to your project, using an unsuitable work platform could result in injuries and potentially even fatalities in extreme cases. So, to ensure your employees are safe and the progression of your project isn't compromised, having access to a variety of different work platforms is crucial.
Below, we explore the many benefits of work platforms along with how they could be instrumental in tackling your upcoming construction project.
Safety and security
It goes without saying that when working at height, safety and security are of paramount importance. Even the slightest foot wrong could have disastrous consequences and with this in mind, it's essential that you're operating from a sturdy and supportive platform. This is where specialist work platforms offer the perfect solution as they are specifically designed to support construction workers and their tools at different heights.
Work platforms are designed and maintained according to industry standards, giving you peace of mind that they're entirely safe to use. They are also constructed using sturdy and durable materials to withstand the weight of both workers and their equipment. Working at height comes with a multitude of different risks, and carrying out tasks from a secure work platform is the best way to keep these risks to a minimum.
Achieving precision
Whether painting an exterior cornice or replacing roof shingles, it's essential to be in close proximity to the area you're working on. After all, these are intricate jobs that require precision, something that cannot be achieved when working from a distance. Luckily, with an elevated work platform, you can access all those hard to reach areas with ease and get up close to the parts of a building that require work.
Whereas full-scale scaffold towers are suited to big construction projects, mobile elevating work platforms (MEWPs) are a lot more flexible and can be positioned exactly as you need, giving you that all-important precision. So, for smaller construction jobs that are perhaps more intricate, a MEWP provides a safe and hassle-free way of accessing hard to reach areas, allowing workers to complete the job to the highest standard.
Improving productivity
It's often said that a bad workman always blames his tools, however, it's near impossible to complete a job to the required standard without the correct equipment, especially in construction. This is why it's essential to have access to the work platforms your business needs to ensure your workforce are always working productively and producing top-quality results.
As previously mentioned, different types of work platforms are suited to different tasks, and it's important for you to select the correct one for the task at hand. For example, if you require the use of lots of heavy tools and equipment at height, a scissor lift is likely to be the perfect option as they are suited to carrying much heavier loads. Alternatively, if you require a platform that offers full 360-degree rotation for fast and easy positioning, then an articulated boom lift may be a more appropriate option.
Picking the correct platforms for the jobs you need to complete is essential, and the best way to do this is to find a scaffolding company that offers an extensive range.
Mobility and flexibility
One of the great things about MEWPs is the mobility and flexibility they offer. Certain platforms give you the opportunity to have 360-degree rotation and powered access platforms can often be driven to a site, set-up, used, and then driven away with relative ease. Although scaffold towers are necessary for certain projects, they are often much less flexible than their mobile platform counterparts.
Certain work platforms can be used internally as well as externally, are compact so as not to be affected by access restrictions and will be specially designed so as not to damage any pathways on a jobsite. Whichever way you look at it, MEWPs and scaffolding offer great advantages in terms of mobility, flexibility and versatility, meaning you can tackle more or less any construction job with a sturdy work platform at your disposal.
MEWPs: a cost-effective alternative to scaffold tower hire
When it comes to construction, time is money, so anything that can be done to increase efficiency and speed is a must. MEWPs give construction workers the support and proximity they need to work at height, helping to quicken the pace of projects, thereby making more money for your business.
Further to this, a MEWP is likely to be much cheaper to rent than a scaffold tower and, as highly flexible work platforms, it may be that a MEWP is the perfect piece of equipment needed for your project. Whilst scaffolding is necessary for certain jobs, a MEWP is a highly suitable alternative that's likely to cost a fraction of the price.
In business, it's essential to save money wherever possible without compromising the success of your project and company. This is where MEWPs offer the perfect solution as they are cheaper than full-scale scaffold towers, yet they still allow you to work to a high standard and complete projects within deadlines.
Hi-Point Access Ltd: scaffolding contractors in Sheffield that offer a broad range of access equipment and competitive scaffolding prices
At Hi-Point Access Ltd, we supply a broad range of work platforms to experts in the construction industry, ensuring you have the equipment you need to tackle any project. Whether you require an indoor scaffold tower or a Genie lift, we offer expertly designed, sturdy structures, and we pride ourselves on our affordable services.
In addition to supplying scaffolding and MEWPs, we conduct specialist training for those operating at height, and our sessions help both employees and employers meet the standards set out in the Health and Safety Work Act 1974.
At Hi-Point Access Ltd, we can offer expert knowledge, quality products, varied services and a wealth of experience, giving you peace of mind that your construction project is in safe hands. Our team will arrive at your site promptly to deliver your work platform and will work with you efficiently to ensure no delays to your project. To discuss scissor lift hire with a member of our team, or to find out more about our scaffold tower prices, get in touch today and choose Hi-Point Access Ltd for all of your scaffolding needs.