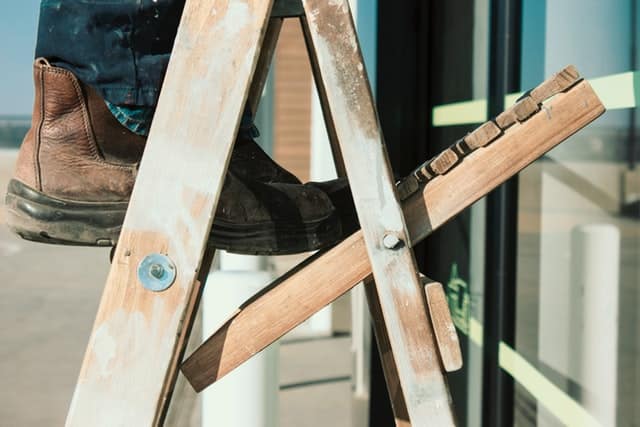 Why Is Scaffolding Better Than Ladders?
Have you recently decided that you want to completely renovate your property? Well, typically, scaffolding is required for those home renovations, rather than just a strong ladder to support you up the side of the building.
So in these cases, why is scaffolding better than ladders? Scaffolding is better than ladders because it not only increases your safety, but also saves time, and gives you more creative freedom in your home development.
Read on to find out why scaffolding is better than ladders, and when it's okay to opt for the rusty ladders from the garage instead.
Why Is Scaffolding Better Than Ladders?
If you're looking at your renovation project plans and wondering, "do I need scaffolding for this project?" the likelihood is that you do, and so a ladder won't suffice. Scaffolding not only increases safety, but scaffolding also saves time and gives you more creative freedom in your project development.
Although scaffolding is not a legal requirement for some property or building improvement projects, it is necessary for large jobs that require working from a height of 2m or higher, such as roofing or high rise projects, or construction on any areas of a building that are difficult to access.
The main point is that if you want to fully transform the style of your building utilising hard labour materials, a ladder will not serve and scaffolding is a much better option.
Below we have mentioned some details about using both scaffolding and ladders as equipment, and explain when we think the most appropriate time to use each is.
Scaffolding
When it comes to construction and home development, scaffolding is unquestionably the superior method. Scaffolding is a temporary piece of equipment that is used to support a construction crew, support any repairs, maintain the property, and assist in the construction process.
Its advantages in home construction or structure design are vast so we've listed a few of the benefits of using scaffolding below.
Increases the project's pace
Improves overall project safety by assisting in the identification of areas for improvement
Aids the construction crew
Allows goods to be moved about the construction site.
Simple access
And much more…
Ladders
Ladders, like scaffolding, are ideal for tasks where a little extra height is required. They are made of solid, long-lasting materials, and are intended to be safe for both domestic and commercial use.
That being said, ladders are often the go-to when needing to work at height for a brief period of time. This means ladders are the better option when completing a small job that won't last a prolonged period of time, or for a project you're doing as an individual rather than as a construction team
Below we have listed some of the benefits when it comes to using ladders.
Good for small and domestic projects
Provides personal support
Helps you to reach a height
How Much Does Scaffolding Cost?
Scaffolding does not have a set price. The cost of hiring and having a team come and build scaffolding will be decided mostly by the height of your home or project, the length of scaffolding required, your location within the UK, and the length of time you require the scaffolding.
Scaffolding Services in Sheffield
Our scaffolding contractor services in Sheffield and South Yorkshire include Aluminium Scaffolding, Indoor Scaffolding, Mobile Scaffolding, Access Platforms, and more. Find out more here about our services, or get in touch to arrange a quote.